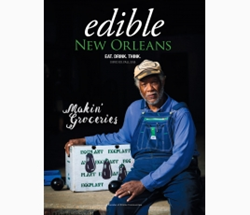 Neww York, NY (PRWEB) June 16, 2016
Edible Communities has just announced the winners of their annual EDDY Awards in both Critics' and Readers' Choice categories. The EDDY's showcase the very best content produced by the organization's award-winning family of 90+ Edible publications, including profiles of local farmers and fishermen, artisans and chefs, eye-opening coverage of crucial social issues, exceptional magazine covers, illustrations, and photography.
Publishers submitted more than 600 entries, representing the best writing, photography and illustration that appeared in their publications last year. Entries were then narrowed down to a set of finalists by 55 esteemed professionals in the food world including the Beekman Boys, Chef Virginia Willis, Melissa Hamilton & Christopher Hirsheimer of Canal House, and Barry Estabrook among others. Meet all of this year's judges here.
The public voted online for the Readers' Choice winners while an independent panel of judges decided Critics' Choice winners. In results announced yesterday, 25 publishers from across the US and Canada took home top honors in 6 categories: Best Feature, Best Imagery, Best Recipes, Best Story, Best Digital, and Best Issue.
The EDDY Award for Best Special Issue went to Edible New Orleans for its Makin' Groceries Issue. Judging the category was Lisa McManus, an executive editor at Cook's Illustrated and Cook's Country magazines: "This cover image is both enticing and forbidding; it's stark and dramatic. It reminds me of paintings by Caravaggio…On the inside, unlike some of the competitors, this issue's theme of "Makin' Groceries" was very consistently carried out throughout the issue, and it was done in a fresh and authentic way… Fantastic job."
Find winners at: http://www.ediblefeast.com/eddyawards.
Follow the conversation on Facebook and Twitter by searching for #EDDYAwards2016.
About Edible Communities
Since its creation in 2002, Edible Communities has grown to be the widely respected leader in the local food space, distributing an average of 1.4 million copies per issue in 90+ local communities across the US and Canada. Through its distinctive licensing business model, individual entrepreneurs in distinct geographic areas lead the creation of hyper-local content through the lens of sustainability and seasonality. With engaging writing, gorgeous design, and photography, the brand was honored in 2011 with a James Beard Award for Publication of the Year. Along with its award-winning print magazines, the Edible brand includes EdibleFeast.com and local websites, digital venues, podcasting, and local events.
Learn more at: http://www.ediblefeast.com