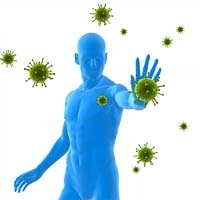 A synergistic anti-tumor effect was seen when ONCOS-102 was combined with chemotherapy regimens.
Raleigh, NC (PRWEB) June 17, 2016
The Norwegian makers of a new immunotherapy drug say it slowed the growth of mesothelioma tumors in mice when used in conjunction with pemetrexed-based chemotherapy. Surviving Mesothelioma has just posted the details of the newly-published research study. Click here to read it now.
Cancer researchers with Targovax, the company that owns the rights to ONCOS-102, say the virus-based drug can enter cancer cells and trigger a powerful immune response. The response was even stronger in mice with pleural mesothelioma when it was combined with chemotherapy.
"While chemotherapy alone showed no anti-tumor activity in the mesothelioma mouse model...a synergistic anti-tumor effect was seen when ONCOS-102 was combined with chemotherapy regimens," writes lead author Lukasz Kuryk, a researcher with Targovax.
Writing in the International Journal of Cancer, the authors say their findings provide a rationale for testing the new treatment combination in human mesothelioma patients.
"The success of ONCOS-102 in this preclinical trial is more evidence of the power of immunotherapy and its growing importance in the treatment of malignant mesothelioma and other intractable cancers," says Alex Strauss, Managing Editor of Surviving Mesothelioma.
To read more about ONCOS-102 and more detailed results of the new trial, see New Immunotherapy Drug Works Synergistically to Fight Malignant Mesothelioma, now available on the Surviving Mesothelioma website.
Kuryk, L, "Synergistic anti-tumor efficacy of immunogenic adenovirus ONCOS-102 (Ad5/3-D24-GM-CSF) and standard of care chemotherapy in preclinical mesothelioma model", June 10, 2016, International Journal of Cancer, Epub ahead of print, http://www.ncbi.nlm.nih.gov/pubmed/27287512
For nearly ten years, Surviving Mesothelioma has brought readers the most important and ground-breaking news on the causes, diagnosis and treatment of mesothelioma. All Surviving Mesothelioma news is gathered and reported directly from the peer-reviewed medical literature. Written for patients and their loved ones, Surviving Mesothelioma news helps families make more informed decisions.