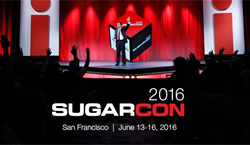 Woodland Hills, CA (PRWEB) June 16, 2016
Faye Business Systems Group was named the recipient of the Most Valuable Global Partner Award at the SugarCRM Annual Partner Awards Ceremony at SugarCon 2016.
The Most Valuable Global Partner Award as given by SugarCRM recognizes FayeBSG's commitment to the Sugar suite of products as evidenced by their breadth of Sugar Integration Add-On Products, as well as their overall new business revenue.
"We're thrilled to win this great award and be recognized by SugarCRM," said David Faye, CEO of Faye Business Systems Group. "It's recognition of the hard work and focus put in by our entire team from sales, all the way through project management and development. We love the Sugar product as well as working with the folks at SugarCRM and look forward to continuing and expanding our relationship in the years ahead."
There are over 650 Global SugarCRM Partners, and this year, more than 1,400 people visited the Hilton San Francisco Union Square for SugarCon 2016. Faye Business Systems Group played an active part as a Silver Sponsor in this year's conference.
In addition to winning the Most Valuable Global Partner Award and conducting live demos of their Sugar Integrations, FayeBSG competed in the App Throwdown with the submission of their newest Sugar add-on, the Visual Property Manager.
Faye Business Systems Group is a longtime partner of SugarCRM and is known for their breadth of SugarCRM Integration Add-On Products and custom software solutions, which include integrations with Phone Systems, ERP software, Marketing Automation, Credit Card Processing, Project Management, and more. Specializing in extensive multi-layered CRM, ERP and marketing integrations, FayeBSG concentrates on a wide array of high value software development and consulting services.
Get in contact with FayeBSG here: http://fayebsg.com/contact-us/
About FayeBSG
A multi-time INC 5000 honoree and recognized by CIO Review as one of 20 most promising CRM and ERP solutions providers for 2015, FayeBSG specializes in a variety of custom software solutions to meet client needs. Services include software development, project management, packaged software implementations, custom software implementations, integration, consulting, training, and support. Faye Business Systems Group has completed hundreds of successful CRM projects, specializes in Sugar Integrations, and is one of Sugar's leading Global Elite Partners. For more information, call (818) 280-4820, email info(at)fayebsg(dot)com, or visit http://www.fayebsg.com. Connect with Faye Business Systems Group on LinkedIn, Facebook, Twitter or YouTube.