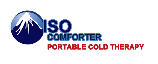 Palm City, Florida (PRWEB) June 16, 2016
IsoComforter, Inc., one of the Nation's premier providers of cold therapy products, announced today the introduction of the shoulder immobilizing sling with 10-degree abduction pillow. The newly designed Iso-Sling has been specifically modified for immobilizing the injured arm and shoulder to help reduce painful movement and promote healing. It is highly recommended for arm or shoulder injury and rotator cuff tear treatment, and is often recommended, along with a shoulder brace.
The shoulder immobilizing sling with 10-degree abduction pillow is available in small, medium, and large.
The Iso-Sling is made of breathable and cool cotton material. The Iso-Sling can be used after rotator cuff repair and to help in a patient's recovery from sprains, strains, dislocations, fractures, and other shoulder/elbow injuries.
Hundreds of thousands of shoulder injuries and surgical repairs are done every year. The IsoComforter shoulder sling will protect the involved arm from sudden jarring motions that the patient might consciously or unconsciously attempt to perform.
The newly modified Iso-Sling was designed in conjunction with orthopedic surgeons to deliver the highest quality shoulder immobilizer in the industry.
About IsoComforter:
Since 2000, IsoComforter, Inc. has been committed to providing the highest quality product possible, through our highly skilled and dedicated employees and state-of-the-art and patented products. This commitment to quality is what makes IsoComforter stand out ahead of our competitors and enables us to deliver quality products to our customers. IsoComforter is located in beautiful South Florida and manufactures and delivers quality products nationwide.
To learn more about IsoComforter's quality products, call our office today or visit our website at https://isocomforter.com and https://isocomforter.com/cold-therapy-machine
Contact:
IsoComforter, Inc.
4215 SW High Meadows Avenue
Palm City, Florida 34990
Phone: 1-877-277-0367
Fax: 1-772-220-6645
Source: IsoComforter, Inc.