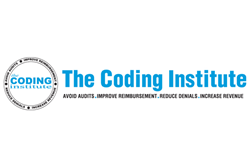 You'll learn from the tough questions from coders and billers across the country and have the answers right at your fingertips," Nikki Taylor, MBA, COC, CPC, CPMA, TCI auditor.
Durham, North Carolina (PRWEB) June 16, 2016
The Coding Institute, LLC, (TCI) announces the publication of Ask an Expert: Top Answers to Over 1,400 of the Most Frequently Asked Coding, Billing, and Reimbursement Questions. Ask an Expert author Nikki Taylor, MBA, COC, CPC, CPMA, is a TCI auditor who compiled more than 1,400 questions and answers from the popular online Ask an Expert Q & A forum into a quick-reference guide which is unique to the healthcare marketplace. Taylor reviewed every question and answer from numerous specialties -- orthopedics, ob-gyn, cardiology, internal medicine, evaluation and management, and current topics -- denial management, compliance, modifiers, and auditing. She included the most frequently asked questions and those most crucial to a medical practice's bottom line.
According to Taylor, Ask and Expert is a boon to medical coding and billing professionals who doubt their aptitudes and skills. Taylor states, "You'll learn from the tough questions from coders and billers across the country and have the answers right at your fingertips." She also states that the book solves "common coding conundrums involving procedural bundling edits, ICD-10-CM coding, CPT® selection, and more." Taylor emphasizes the importance of including "real-world operative reports that serve as a learning tool to help boost surgery coding skills, one of the most difficult areas for coders to achieve mastery."
Ask an Expert also includes evaluation and management audit forms and checklists, billing tools for nonphysician practitioners, easy-to-understand lay term explanations for CPT® and HCPCS modifiers, operative reports in case studies, and specialty-based quizzes with answer keys. The book features a collection of top-searched articles on SuperCoder.com, TCI's website for online tools and services, on topics such as denial management, CCI edits, add-on codes, and the global surgical package.
Veteran educator Beth Martin, BS, COC, appreciates the book's unique organization, separating questions and answers into different sections. According to Martin, "This setup makes the book ideal for continuing education in the workplace or in a classroom setting. Coders and billers can test their own knowledge by attempting to answer a question without the answer in view. Employers can also use case studies and quizzes in the book to test coding knowledge of new hires. There really is no other book like this in the healthcare field." She recommends Ask an Expert to managers, coders, billers, and educators.
To learn more about Ask an Expert, visit: http://www.codinginstitute.com/books/ask-an-expert.html or call 800-508-2582.
To learn more about the Ask an Expert Q & A forum, visit: https://www.supercoder.com/coding-answers/ask-an-expert.
About The Coding Institute
The Coding Institute is dedicated to offering quality products and services to help healthcare organizations succeed. TCI is primarily focused on providing specialty-specific content, code sets, continuing education opportunities, consulting services, and a supportive community of healthcare professionals and experts. For more information, visit TCI at: http://www.codinginstitute.com/about-us.
CPT® is a registered trademark of the American Medical Association. All rights reserved.