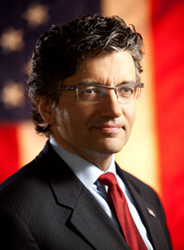 (PRWEB) June 16, 2016
Dr. Zuhdi Jasser, president of American Islamic Forum for Democracy, called for American Muslims to declare "war" on radical jihadists and to stop being "bystanders."
"Americans, the American Muslims [need to be] declaring war against the jihadists and saying we as American Muslims are not only going to stop the means, which is terrorism, but declare war on the Islamism," Jasser said on "The Laura Ingraham Show" Tuesday.
Jasser called for a domestic and global intervention to reform aspects of the Muslim religion."Hillary Clinton can never claim to be a friend of the gay community as long as she continues to support immigration policies that bring Islamic extremists to our country," he continued.
"We say from a Muslim reform movement perspective that we need tough love and we have to stop the enabling and do an intervention in our community because they're going to continue to say, 'Well, we support America, we're going to report them if they show acts of preadolescence towards violence,'" Jasser said, stressing the difficulty for many Muslims to turn in potentially radicalized individuals when they sympathize with their beliefs.
Jasper said many Muslims see "an Islamic State that condemns homosexuals, condemns Jews, condemns minorities. They think that's normal operating procedure and that's not radicalism." He added that it's time to start calling radical Islam by its name and that "Muslims need to lead" the effort.
M. Zuhdi Jasser, M.D. is the Founder and President of the American Islamic Forum for Democracy (AIFD) and is the author of A Battle for the Soul of Islam: An American Muslim Patriot's Fight to Save His Faith (Simon & Schuster, June 2012). On March 20, 2012, Dr. Jasser was appointed by Senate Minority Leader Mitch McConnell (R-KY) to the United States Commission on International Religious Freedom (USCIRF) where he currently serves as a Commissioner.