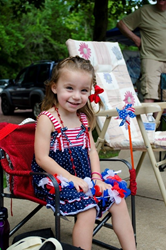 We are not only rolling out the red carpet for guests," says Mike Bowman, President & CEO of the VFTCB, "we are rolling out the red-white-and-blue carpet."
King of Prussia, PA (PRWEB) June 18, 2016
Thanks to a kindness of the calendar that puts July 4 on a Monday, the Valley Forge Tourism & Convention Board (VFTCB) is calling all patriots to spend the three-day weekend in Montgomery County, Pa.
The tourism board's website has curated a full run-down of events, neighborhood by neighborhood. Highlights include:

The 65th edition of the Soap Box Derby in Conshohocken, Pa., which sends racers as young as seven hurtling down a 1,000-foot track in home-built cars.
The annual running of one of the oldest July 4 parades in the nation in Glenside, Pa., where bands and floats have stepped out each Independence Day since 1904.
The Skippack Parade, whose marchers walk the same historic route as General Washington and the maneuvering Continental Army. Once the bands and floats have wrapped up, the crowd gathers to enjoy barbecue at a free concert.
A family-style bash at Valley Forge National Historical Park, which is marking the centennial of the founding of the National Park Service. Valley Forge's party includes:
Musket demonstrations
Readings of the Declaration of Independence
1777-era games
Plenty of burgers and hot dogs
Tours on foot and on trolley
An exhibit of memorabilia from the Bicentennial Wagon Trains that crisscrossed the country to arrive in Valley Forge 40 years ago
Pottstown's Independence Day celebration at Memorial Park, welcomes a full court of high-school homecoming queens for a trophy presentation. The event takes place against the backdrop of a classic car show.
July 4-themed carnivals are being held in:
Narberth, Pa., which has been called the heart of the famous Main Line
Ambler, Pa., which will spread its Independence Day party over five days
Coventry, Pa., on the grounds of the Norco Fire Company, founded in 1951
With the knowledge that no July 4 is complete without a fireworks spectacular to end the holiday, the VFTCB also lists 11 Montgomery County communities holding fireworks displays:

Conshohocken: July 3, Sutcliffe Park (800 Colwell Lane, Conshohocken)
Glenside: July 4, Abington Senior High & Middle School (2056 Susquehanna Road, Abington)
Narberth: July 4, Narberth Playground (100 Conway Avenue, Narberth)
Skippack: July 4, Palmer Park (Heckler and Creamery Roads)
Ambler: July 4, Wissahickon High School (521 Houston Road, Ambler)
King of Prussia: July 4, Heuser Park (West Beidler Road & Geerdes Boulevard
Limerick: July 4, Waltz Golf Farm (303 West Ridge Pike)
Eagleville: Eagleville Park (100 Parklane Drive)
Chesterbrook: July 4, Wilson Farm Park (500 Lee Road)
Phoenixville: July 4, Friendship Field, (corner of Fillmore and Franklin)
Pottstown: July 9, Norco Fire Company Fairgrounds (Route 724)
King of Prussia hotel rates for the July 1-5 period are averaging $114 per night. Coupled with free parking and easy access to Independence Day events, the VFTCB is positioning the weekend as not only enjoyable but also budget-friendly.
"We are not only rolling out the red carpet for guests," says Mike Bowman, President & CEO of the VFTCB, "we are rolling out the red-white-and-blue carpet.
"Our Independence Day events are all about drawing families together," he continues, "celebrating the role that Montgomery County played in our nation's history and creating a fantastic experience. Schools are out, vacations season is here, our weather is picture-perfect and our 74 hotels and 500 restaurants and nine historical sites are ready to welcome patriots from all across America."