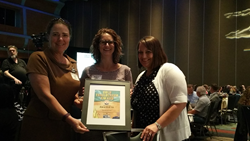 We are gratified and honored to have contributed to their success, both through our company's own employee giving campaign, as well as by providing UWSHR with comprehensive and innovative technology solutions…
Virginia Beach, VA (PRWEB) June 23, 2016
StratusLIVE, LLC was recently honored for the third year in a row with by United Way of South Hampton Roads at their 6th Annual Campaign Finale Celebration, held at the Virginia Beach Convention Center on June 7th, 2016.
According to United Way of South Hampton Roads (UWSHR) 2016 Annual Report, the 2015/16 campaign raised more than $16 million "as employees, retirees, individuals, and corporations understood the opportunity to make a difference."
In addition to being a corporate donor to UWSHR's annual workplace giving campaigns, StratusLIVE is also the official CRM software provider of UWSHR and many other United Ways across the country.
This campaign marks the third consecutive year that StratusLIVE has been honored by UWSHR with the Gold Level Trailblazer, which is awarded to companies that exceeded specified fundraising goals during the 2015-16 campaign, including per capita gift amount, average gift total, and overall participation rate.
"United Way of South Hampton Roads was one of StratusLIVE's first clients but they are also a great local nonprofit that we are pleased to support," said Michael Trainor, co-founder and president of StratusLIVE. "We are gratified and honored to have contributed to their success, both through our company's own employee giving campaign, as well as by providing UWSHR with comprehensive and innovative technology solutions to help increase the success of their fundraising efforts."
Companies that met one of the designated criteria earned the bronze award, companies that met two out of the three criteria were honored with the silver award. StratusLIVE was one of only 50 companies that met all three criteria to earn the gold level award.
Other companies at the Gold Trailblazer fundraising level included: Foodbank of Southeastern Virginia, GEICO, Virginia Natural Gas, USAA Mid-Atlantic, and the United Way of South Hampton Roads itself.
Two corporate partners, Sentara Healthcare and Norfolk Southern Railway Corporation, each raised over one million dollars, respectively.
Sentara contributed more during the 2015/16 campaign than any other single employer, having raised more than $1 million in each of the past 4 years, for a combined total of nearly $5 million.
Norfolk Southern raised $1 million for the second time in its history, as well as counting 27 of its employees among the Tocqueville Society, each having given $10,000 or more.
(Photos courtesy of Janice Sanderlin.)
About StratusLIVE, LLC
StratusLIVE is a leading provider of cloud-based solutions for nonprofit organizations. The StratusLIVE for Fundraisers suite features enterprise-class relationship management, online fundraising, business intelligence, and analytical marketing capabilities, natively integrated with the commercial Microsoft Dynamics CRM platform. StratusLIVE is headquartered in Virginia Beach, Virginia, with offices throughout the United States. For more information, visit http://www.stratuslive.com.