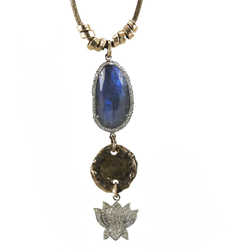 The intent of my creations is to channel positive energy and help to renew the soul.
Carmel, Ind. (PRWEB) June 20, 2016
Michelle Marocco Jewelry Design and Fine Art recently launched a new website, adding an expansive selection of her newly-designed jewelry collections and additional enhanced online features. The inspired conjunction of craft, natural elements and fine design of Michelle Marocco is now reflected in her new website. Michelle Marocco jewelry, well-known among celebrities worldwide, is now more accessible than ever.
Michelle Marocco has established herself as an internationally-acclaimed jewelry artist whose one-of-a-kind jewelry is in high demand by many celebrities such as Russell Brand, Nicole Scherzinger, Elaine Irwin, and Frankie Ballard. Marocco was personally invited to Saudi Arabia by the royal family to exhibit the Marocco collection at an annual women-only charity event.
In response to her clients, MichelleMarocco.com reflects the features that propel the user experience by enhancing online shopping options. New features of the website also include a customized wish list, gallery of inspirational styling options, scheduling for personal shopping appointments at the Michelle Marocco showroom and expanded collections of unique Michelle Marocco jewelry designs.
"I like to style both the body and spirit with my jewelry," says Marocco. "To capture and harness a compelling urgency to create is a driving force with me. The intent of my creations is to channel positive energy and help to renew the soul."
Collections include BusyGirl™, Niyama™, and Marocco ManGear. Each piece Marocco creates is truly unique, not just in the original combination of materials, but in the spiritual inspiration that sparks each creation. All pieces are handmade and honed with an artist's eye. Utilizing diamonds, semi-precious gemstones and pearls combined with the earthy quality of leather and sacred wood, Michelle Marocco creates truly wearable art.
In addition to her collections, Michelle Marocco creates custom pieces for companies and events such as the Food and Wine Classic in Aspen, Vail Downhill Ski Championship, 100th Running of the Indianapolis 500 for a corporate client, Reebok, Miraval Luxury Resorts, and many more.
The Marocco line includes unique collections and individual pieces true to her original concept of "the audacity of diamonds on leather." The artist's multi-dimensional imagination helps her to handcraft one-of-a-kind wearable artistic creations infused with a spiritual energy.