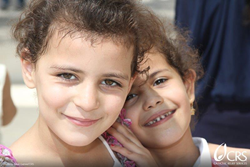 "The scale of the suffering is devastating. Each of the millions of displaced Syrians is an individual uprooted from a full life, a career, a loved one," says Kevin Hartigan who manages the Syrian refugee response for Catholic Relief Services (CRS).
Baltimore, MD (PRWEB) June 16, 2016
On World Refugee Day, consider this statistic: Refugees are now displaced for 17 years on average—almost twice as long as 20 years ago. Since half of the 60 million people who have been forced to flee are children, this "lost generation" could spend their entire childhood without a place to call home.
The conflict in Syria alone—now into its sixth year— has put more than 11 million people on the move.
Catholic Relief Services (CRS), a Baltimore-based international humanitarian organization, has seven ways Americans can help make a difference in the lives of those who've had to leave one of their most cherished possessions behind: their homes.
1. RAISE AWARENESS: The Syrian Civil War has led to massive displacement. Watch this video and share it on social media to help raise awareness about the plight of Syrian refugees.
2. LEARN MORE: The more Americans know about this crisis, the more they will understand its underlying causes, and the better they will be able to teach others. Continued warfare in Syria and violence in places like Iraq and Afghanistan has contributed to the surge of refugees from those countries. Meanwhile, deteriorating economic conditions in places like Sub-Saharan Africa has led people to Europe in search of a better life just as violence in Central American neighborhoods has sent people looking for safety.
3. DONATE: Donate to those organizations like Catholic Relief Services that are providing immediate life-saving assistance to refugees in need.
4. ADVOCATE: For years, countries in the Middle East have been sheltering the largest number of Syrians and Iraqis. Americans can urge their members of Congress to continue and expand humanitarian assistance to help refugees in these countries, as well as those burdened by this new migration.
5. USE SOCIAL MEDIA: Connect with other like-minded people and organizations worldwide that are advocating for refugees through social media channels. Look on Twitter for the latest updates on the #RefugeeCrisis.
6. SUPPORT REFUGEES IN THE UNITED STATES: Let Capitol Hill know that this issue matters while supporting organizations such as Migration and Refugee Services and Catholic Charities. Or volunteer to help nearby refugees through local refugee resettlement centers.
7. PUSH FOR PEACE: Realize that until the bloodshed stops in their homelands, these refugees will continue to live in limbo. Until people have economic opportunities, they will travel to seek security for themselves and their families. Pope Paul VI said "Development is the new name for peace." So Americans can become advocates for peace and development because 17 is too many years to lose.
Additional Information:
[For additional resources on the Syrian refugee crisis and World Refugee Day, click here.]