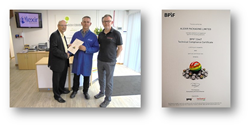 As a carton-converter mainly in the food industry we always strive for print excellence and this programme helps to endorse our high expectations of colour management
(PRWEB UK) 21 June 2016
Alexir Packaging has become the first print company to achieve the BPIF's 12647 Technical Compliance Certificate, showcasing themselves as a quality print provider. Offering both lithographic and digitally printed packaging, the Alexir Partnership is a major force within the food and branded goods industries.
BPIF Consultancy Services Director, Phil Pateman, presented Alexir's Print Manager, Andy Crack, with a certificate at their Edenbridge site in Kent accompanied by programme sponsor, Kevin Purdy of Sun Chemical.
On being awarded the first certificate of its kind, Andy Crack said, "We are delighted to be the first print company to be awarded this certificate. As a carton-converter mainly in the food industry we always strive for print excellence and this programme helps to endorse our high expectations of colour management."
The new certificate is a level 1 standard for SMEs who seek to either promote their already high level of colour management or to put in place the steps required to progress towards a quality system.
The BPIF's Phil Pateman commented, "Interest in the BPIF 12647 Technical Compliance Certificate has been high and the BPIF are delighted that one of the UK's leading packaging printers have recognised the importance of the scheme in relation to striving for colour management excellence. We have a number of printers currently on the scheme, some of which have required some capital investment in their front end systems. All recognise the productivity benefits of doing so through reduced make ready times, paper, ink and consumable wastage; but the ability to produce continuous print quality that matches a recognised colour standard is the biggest bonus of all."
The BPIF offer a free online colour Healthcheck to give print companies an indication of ease of implementation, available at http://www.britishprint.com/colour