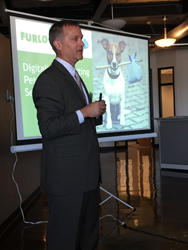 We are very excited about the role the BizLab VirtualFund can play in filling a funding gap that startups frequently have.
Schenectady, New York (PRWEB) June 16, 2016
Reid Hislop, president and CEO of Furlocity Inc., the premier digital marketplace for pet owners, delivered the inaugural pitch at the launch the BizLab VirtualFund.
The BizLab VirtualFund is designed to engage successful businessmen and women who want to invest in startups but are often overlooked because their business backgrounds are not in technology or venture capital.
"We are very excited about the role the BizLab VirtualFund can play in filling a funding gap that startups frequently have," said Antonio Civitella, founder and president of the BizLab and president and CEO of Transfinder. "We expect to have more of these pitching events for BizLab tenants and affiliates."
Civitella told the more than 30 people in attendance that he had a personal stake in Furlocity and urged the potential investors to consider doing the same.
"We are excited to be the first company within the New York BizLab to formally present our company to the VirtualFund," said Hislop.
Hislop said within the last month, Furlocity has made several strategic hires, including a local leader in Digital Marketing and most recently, two of the key technologists out of GE Research.
"These roles are critical as we continue to expand our pet services digital reservations platform and grow our community of pet parents," Hislop said. "The opportunity to share our most recent traction, our great office space, as well as our growth strategy with the BizLab VirtualFund participants in a single presentation was an excellent opportunity and will likely yield positive results as we continue to promote our Series B capital raise."
Hislop joined Furlocity in April following stints at Pitney Bowes MapInfo, where he served as vice president of global marketing, and Plug Power, where he served as vice president of marketing and investor relations.
Steve Lobel, a local entrepreneur and investor with the Eastern New York Angels, as well as recent author of the book "Failing My Way to Success," was one of those in attendance for the first VirtualFund pitch.
"I like the idea of the VirtualFund because it brings the opportunity of investing in emerging companies to a broader base," Lobel said. "Those of us who are in the venture capital or angel investing network understand that there are so many companies that are coming forward and being grown in this area. But this expands the concept to a much broader base. I think it's fantastic."
Rick D'Errico, managing director of the New York BizLab, said the goal of the pitch event was to be invitation-only and intimate with a select group of some of the region's top business leaders.
"Many of these extremely smart businessmen and women told me they have never been asked to invest in startups despite their success in a variety of industries," D'Errico said. "We see them as not just potential investors but also potential advisers who can provide significant insights to our protégé companies."
If you are interested in learning more about the VirtualFund or interested in being considered for future presentations, please email Rick D'Errico at rderrico(at)nybizlab(dot)com.
For more information on Furlocity, call Reid Hislop at (518) 577-5884 or email reid(at)furlocity(dot)com.
About New York BizLab
The New York BizLab, http://www.nybizlab.net, is a business accelerator located in Schenectady, New York. It is focused on helping tech companies grow smart and grow fast. The BizLab has state-of-the-art space, 1Gig Internet access and more than 30 CEOs and entrepreneurs in its stable of advisers. The BizLab, which is a Start-Up NY-approved site, was founded by Antonio Civitella, the president and CEO of Transfinder, a logistics software company that has been featured on Inc. magazine's fastest-growing companies' list for the past nine years.
About Furlocity
Furlocity, Furlocity.com, was founded on the vision of making pet parents' lives easier by utilizing 21st century technology to access the services they need for their dog and cat 'family members'. Furlocity.com is the premier digital marketplace for pet owners to search, identify and book trusted pet boarding stays, doggy day care, veterinary services and pet-friendly hotels; simplifying the booking process. Furlocity's online marketplace currently includes top-rated pet boarding and doggy day care facilities and kennels in more than 105 cities and 30 states, and more than 42,000 pet-friendly hotels across the United States.