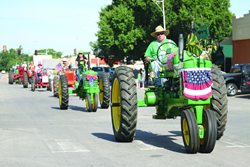 Duncan, OK (PRWEB) June 21, 2016
Friday night, June 24th, will kick off the celebration with Main Street Duncan's Founder's Day Car Cruise. Tailgate parties welcome and there will be a bounce house, face painting, balloon animals for the children, live entertainment plus vehicles of every make and model cruising from 6-10 pm. Registration is at 10th and Main, cost is $10/vehicle. For more information contact Main Street Duncan at 580-252-8696.
Prior to the cruise beginning, the Chisholm Trail Arts Council will hold ArtWalk's Artist Reception at the Stephens County Historical Museum in Fuqua Park from 5:30-7:30 pm. Guests 21 yrs of age and older will mix and mingle with the artists, including feature artist and Duncan native, Gaye Faulkenberry. For more information contact CTAC at 580-252-4160.
Saturday morning the festivities begin early with the 5D Founder's Day Run in Fuqua Park, located at Beech Ave/Hwy 81. The event begins with the 1 mile walk starting at 7:30 am and the 5K beginning at 8 am. For more information contact 580-467-2908.
Visit downtown Duncan for the 3rd annual Founder's Day Tractor Parade. Beginning at 10 AM, the tractor parade will begin at 12th and Walnut and end at Butterfield's Ballroom and Mercantile (807 W. Main). Tractors will be displayed for the crowd to enjoy. Trophies will be awarded to the Founder's Day Queen's Choice, Oldest Tractor, and Most Original.
If you would rather watch royalty, the Founder's Day Queen Crowning will be at the Stephens County Historical Museum at 10:30 am with the historical home tours scheduled for 1-3:30 pm that same afternoon. Homes to be announced. One ticket of $5 will cover entry to all three homes.
The W.T. Foreman Prairie House Foundation will be hosting a home tour as well as acraft show as part of Duncan's Founder's Day events. Enjoy a glass of lemonade and some cookies on the porch of the historical Foreman Prairie House located at 814 West Oak in Duncan, OK. For a minimum fee, Home tours will be available to visitors with all proceeds directly benefitting the preservation of the Prairie House. Crafters will have their booths open from 10:30am-4:00pm and will display a variety of vintage crafts for sale. For more information on booth spaces, activities and home tours please contact 580-255-7693.
The Chisholm Trail Arts Council's ArtWalk Duncan (AWD) is an annual fine arts, music festival that will be held on Saturday, June 25th from 10:30am to 11:00pm. Local artists, and artists from across the state of Oklahoma will be a part of this event. Artists will have their fine art on display and items for sell… with works ranging from photography, wood working, garden sculptures, painting, pottery, hand-made jewelry and much, much more. There will be live entertainment throughout the day and a FREE CONCERT in the park featuring Kaitlin Butts at 7:30pm. With vocals that throw you back to the honesty of early female honky-tonkers, and with that nostalgia refreshingly uncontrived, this Oklahoman sings her songs with 50 years of heartbreak in her voice, though she is not even half that age. Kaitlin's music has recently received praise from Music blog, Red Dirt/Blue Collar. To find out more about Artist Booths, Sponsorships, or event information, please call 580-252-4160.
Last but not least, rodeo fans will want to catch The Little Britches Rodeo Association's Finals at the Stephens County Fair and Expo Center located on Hwy 81 S. This is one of the major junior rodeo associations in the nation and will be held Friday and Saturday evenings at 7:30 pm.
For general information please contact the Duncan Convention and Visitors Bureau at 1-800-782-7167 or visit http://www.visitduncan.org or email tourism(at)simmonscenter(dot)com.