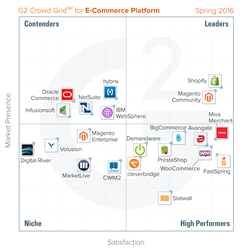 CHICAGO (PRWEB) June 16, 2016
G2 Crowd, the world's leading business software review platform, today released the Spring 2016 E-Commerce Platform Software Grid report to help businesses make the best e-commerce platform technology decision. Magento Community Edition and Shopify were named Leaders in the report, receiving strong customer satisfaction scores with a large market presence.
Miva Merchant, Avangate, WooCommerce, FastSpring, BigCommerce, PrestaShop, Demandware, cleverbridge and Slatwall were named High Performers in the report, earning strong customer satisfaction marks with smaller market presence scores. Shopify earned the highest overall satisfaction score, while Magneto Community Edition earned the highest overall market presence score.
The Grid leverages customer satisfaction data reported by authenticated users along with vendor market presence determined from social and public data. Based on a combination of these scores, each software solution is categorized as a Leader, High Performer, Contender or Niche.
Key Findings:

In it for the long haul - Given the complexity of these platforms and the sheer number of integrations happening on the backend of this software, users are reluctant to migrate to new products. Reviewers highlighted the number of years they have been with vendors in this category, and in the same breath complain about outdated feature sets.
Special order - Personalization and merchandising features were on the minds of the reviewers in this report. Reviewers found value in tools like user profiles and product recommendations but called for an expansion of these functionalities. Further, users were unhappy with limited customization capabilities offered by many of the platforms included in this report.
On the double - Attentive and quick-responding support services had a direct effect on user satisfaction for products in this category. According to our reviewers, they would be more likely to recommend products with a quality of support rating of 85 percent or higher than products below that mark. In addition to online knowledge bases and support materials for troubleshooting issues, users often needed to contact the vendor directly. In these cases, reviewers found 24/7 contact options and dedicated support teams necessary.
About the E-Commerce Platform Software Grid report:
The report is based on more than 590 reviews written by business professionals.
Of the 129 products listed in G2 Crowd's E-Commerce Platform category, the ranked products each received ten or more reviews to qualify for inclusion on the Grid.
About G2 Crowd, Inc.
G2 Crowd, the world's leading business software review platform, leverages more than 80,000 user reviews to drive better purchasing decisions. Technology buyers, investors, and analysts use the site to compare and select the best software based on peer reviews and synthesized social data. Monthly more than a half-million people visit G2 Crowd's site. Co-founded by the founder and former executives from SaaS leader BigMachines and backed by roughly $12 million in capital, G2 Crowd aims to bring authenticity and transparency to business technology research. For more information, go to G2Crowd.com.