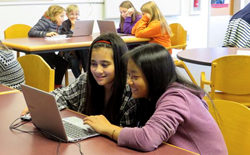 The school districts we work with love our ready-to-go curriculum and videos.
Bellevue, WA (PRWEB) June 17, 2016
In anticipation of the upcoming school year, the Snohomish School District in Washington State is equipping many of its teachers with ITCH, a coding resource created by Ucodemy for K-12 schools.
Powered by EDUonGo, a cloud-based learning platform, ITCH delivers educational resources and training to schools and teachers—including coding curriculums, collaborative teaching tools and professional software coaching. Lessons incorporate interactive stories, games and animations.
Valley Middle School is using ITCH to introduce many of their students to coding. Kathy Greenwood, a paraeducator at Valley Middle School, has seen particular success with her special needs students.
"Some of my students who have a hard time expressing themselves have a huge interest in computers," says Kathy. "Because of ITCH, one particular student of mine has been able to communicate and express himself in an entirely new way—even in his vocabulary."
ITCH provides teachers collaborative tools to modify existing courses and create new ones in the site's user interface. By providing each teacher a private workspace, students' projects can be shared instantaneously with their classmates and teachers. The secure social network also makes it easy for teachers to manage student projects without the clutter or noise of millions of other users—and helps students to bypass the hassles of the open Internet.
"The school districts we work with love our ready-to-go curriculum and videos," says Jason Rukman, principal at Ucodemy. "We're also helping teachers create their own customized lessons to meet the needs of their class levels."
Because most K-12 teachers do not have a background in computer science, Ucodemy staff provides 24/7 coaching support to help them leverage the platform and resources.
With a growing number of states making computer science a requirement for high school graduation—school districts are turning to Ucodemy to make sure their students don't get left behind. If you are interested in bringing code to your school, contact hello(at)itchcode(dot)com.
About Ucodemy
Ucodemy delivers educational resources to teachers in the classroom so they can effectively teach their students computer science. http://www.ucodemy.com.
About EDUonGo
EDUonGo enables anyone to share knowledge through an online learning environment. Schools, institutions and individuals partner with EDUonGo to host online academies through its cloud-based platform. In addition to providing features found in leading learning management systems, EDUonGo gives users the flexibility to customize the system and integrate third party tools. For more information, visit http://www.EDUonGo.com.