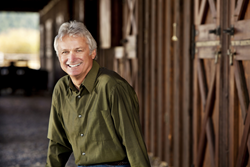 (PRWEB) June 20, 2016
Tom Evans Joins the Exclusive Haute Residence Real Estate Network
Tom Evans, a Realtor of Sotheby's International Realty in the Jackson Hole, Wyoming, market, has joined the prestigious Haute Residence Real Estate Network along with other exclusive partners, such as Jeff Hyland, Joyce Rey, and The Altman Brothers.
The Haute Residence Real Estate Network of Hauteresidence.com, affiliated with luxury lifestyle publication Haute Living, is proud to recognize Tom Evans as a prominent and award-winning real estate professional and the network's newest partner.
Designed as a partnership-driven luxury real estate portal, Haute Residence connects its affluent readers with top real estate professionals, while offering the latest in real estate news, showcasing the world's most extraordinary residences on the market and sharing expert advice from its knowledgeable and experienced real estate partners.
The invitation-only luxury real estate network, which partners with just one agent in every market, unites a distinguished collective of leading real estate agents and brokers and highlights the most extravagant properties in leading markets around the globe for affluent buyers, sellers, and real estate enthusiasts.
HauteResidence.com has grown to be the number one news source for million-dollar listings, high-end residential developments, celebrity real estate, and more.
Access all of this information and more by visiting: http://www.hauteresidence.com
About Tom Evans:
In a Jackson Hole market teeming with professionals, Tom Evans has distinguished himself as a truly exceptional performer. His accolades and awards include being named Jackson Hole Sotheby's International Realty's "Top Sales Agent" three years running, from 2013 to 2015, and "Top Producer" in 2012 and 2011.
These achievements are a direct reflection of Evans' 30 years of real estate experience in the Jackson Hole area. After moving to the valley in 1978, he joined BBC Real Estate in 1986 as a broker and, later, partner before being recruited to join Jackson Hole Realty in 1996. He served as a member of the board of directors and chaired the administration department of what became the largest brokerage firm in the valley before Sotheby's International Realty's purchase of Jackson Hole Realty in 2003.
Evans' career flourished with Sotheby's International Realty. His landmark sales include the 1,500-acre "BAR BC Ranch," listed at $112 million—the highest list price for any property in Teton County; the 1,250-acre "Spring Gulch Ranch," listed at $75 million; and more than $230 million in re-sales at the "Bar BC" and the "Bar B Bar" ranches in Jackson Hole.
In addition to selling and listing properties, Evans has extensive experience in the property development arena. His recent projects include a mixed commercial-residential development in a Jackson grocery store complex, as well as the design, build, and sale of speculative homes in some of the valley's most exclusive neighborhoods.
As a committed member of the Jackson Hole community, Evans has served on numerous nonprofits in and around the valley. His prior service includes time on the board of directors for the Greater Teton Area's Habitat for Humanity. He currently serves as a member of the board of the Jackson Hole Land Trust and board of governors for 3 Creek Ranch Resort.
Evans' blend of enthusiasm for the town he has long called home and humble approach makes him the ideal Jackson Hole Realtor. His proven record of success makes him the benchmark for real estate experience in the valley. Let him connect you to this Rocky Mountain paradise today.
To learn more, visit Tom Evans' Haute Residence profile: http://www.hauteresidence.com/member/tom-evans/