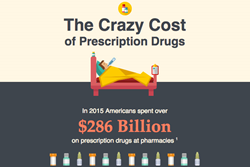 (PRWEB) June 22, 2016
Medicare-focused informational website MedicareHealthPlans.com launched a new interactive infographic that gives consumers a deeper look into how prescription drug costs in the United States compare to the rest of the world. The infographic uses data from a variety of reliable sources to help educate individuals on how much money is spent on a yearly basis on consumable medications. Individuals are able to break down the United States costs by state to get a better understanding of how their own state compares to others in the U.S. and abroad.
While this information has been presented before in traditional publications and journals, this is the first time it has been turned into a digital, interactive format that is much easier to understand and enables easier comparisons to other countries around the world.
Titled "The Crazy Cost of Prescription Drugs," the piece also compares the total spend of prescription drug costs to other large annual expenditures such as auto insurance, undergraduate tuition, and gambling. The piece has an accompanying article which dives deeper into the breakdown of this annual spend and identifies several reasons for the large spend when measured against other nations across the globe.
The piece was created to draw additional focus to an area that is sure to be a hot topic come the 2016 Presidential election in November, and also addresses how individual candidates might impact this spend should they be voted into office.
MedicareHealthPlans.com offers its content and services free of charge to anyone interested and will be partnering up with larger industry-related media sources in the coming months to provide even more insight into this topic. To view the complete piece, visit: http://www.medicarehealthplans.com/2016/05/26/crazy-cost-prescription-drugs-infographic-state-paying-much/