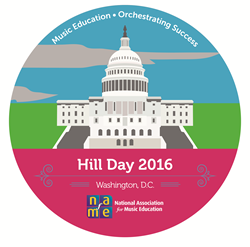 We thank CMA Foundation, Kristian Bush, and Charlie Worsham for joining NAfME members in advocating for music education.
RESTON, VA (PRWEB) June 20, 2016
Coming off a record-setting CMA Music Festival in Nashville, TN, which directly benefits music education, CMA Foundation Board members and Country Music artists will join NAfME at its annual "Hill Day" for music education on June 23. Sarah Trahern, CMA Chief Executive Officer; Joe Galante, CMA Foundation Chairman and CMA Board Member; Jennie Smythe, CMA Board Member; and Country Music artists Kristian Bush and Charlie Worsham will join NAfME members on Capitol Hill in advocating for the critical need for complete, high-quality music programs for all students.
The Country Music Association (CMA) and the CMA Foundation have contributed more than $13.6 million to support quality, sustainable music education programs across the country. The CMA Foundation set a record in 2016 with $2.6 million in charitable gifts to music education initiatives, including a generous $150,000 research grant to Give a Note Foundation, an affiliate of the National Association for Music Education (NAfME).
CMA created the nonprofit (501C3) CMA Foundation in 2011 as the charitable giving arm of CMA. Funds for the Foundation are provided by CMA on behalf of the hundreds of artists who perform and make appearances during CMA Music Festival for free.
While direct donations make a critical difference in school music programs, to sustain them in the long run, stakeholders look to policy makers to support those programs. With the "Well-Rounded Education" provision of the federal Every Student Succeeds Act (ESSA) singling out "music" as a critical component of a complete education for all students, music advocates have leverage in making the case for equal access and sustainable funding for schools. And now is a decisive moment to make that case, as ESSA funding decisions are being made on the national level.
"NAfME appreciates CMA Foundation Board members and artists bringing their voices and stories to the table as we urge legislators to fully fund provisions that benefit music education programs," said Christopher Woodside, NAfME Deputy Executive Director. "Action does not end with ESSA's passage—ensuring proper implementation takes place matters to the efficacy of ESSA. And we thank CMA Foundation, Kristian Bush, and Charlie Worsham for joining NAfME members in advocating for music education."
The day's events will begin at Hart Senate Office Building, Room 902, at 8:30-10:00AM for a short briefing, during which Kristian Bush and Charlie Worsham will offer remarks, and an awards ceremony, honoring Senator Lamar Alexander (TN) for his work on behalf of music education. There will be a short time after the briefing for press to ask questions.
###
National Association for Music Education, among the world's largest arts education organizations, is the only association that addresses all aspects of music education. NAfME advocates at the local, state, and national levels; provides resources for teachers, parents, and administrators; hosts professional development events; and offers a variety of opportunities for students and teachers. The Association orchestrates success for millions of students nationwide and has supported music educators at all teaching levels for more than a century. With more than 60,000 members, the organization is the national voice of music education in the United States.
Follow NAfME on Twitter (twitter.com/nafme) and on Facebook (facebook.com/nafme).
For additional information, contact Catherina Hurlburt at catherinah@nafme.org or 703-860-4000, ext. 216.