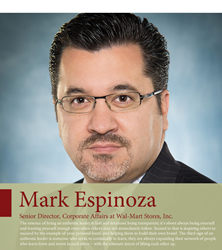 The experience opened my eyes to opportunities previously unseen; to the realization that the culture and the values we grew up with as Latinos are the keys to success, not only in our own leadership journeys but to the people and organizations we serve
(PRWEB) July 26, 2016
Center for Hispanic Leadership (CHL) Academy, the talent development and career advancement platform for 21st century leadership, has named Walmart's Mark Espinoza as its Hispanic Leader of the Month. Wal-Mart Stores, Inc. helps people around the world save money and live better – anytime and anywhere – in retail stores, online, and through their mobile devices.
Walmart is a leader in sustainability, corporate philanthropy and employment opportunity, and as Senior Director of Corporate Affairs at their home office in Bentonville, Arkansas, Espinoza helps set strategy for the company's outreach opportunities and social investments. Espinoza has a broad range of experience with the public, private and NGO sectors, and is currently coordinating external outreach efforts for Walmart's U.S. Manufacturing, Veterans and Financial Services efforts.
According to CHL Academy founder Glenn Llopis, "We chose Mark as CHL Hispanic Leader of the Month because of his commitment to serving and investing in others, and providing opportunities to help them grow into leadership positions of their own. Through the values of transparency, authenticity and integrity, he inspires others to succeed by way of his example, and to continually learn from each other and lift each other up."
"People think you need sharp elbows to make your way up the ladder, but if we as Latinos lead with our authentic voices and values, we will not only find more success but be able to bring others along with us," says Espinoza. "This idea of an authentic leader really took off for me when I attended a Center for Hispanic Leadership workshop at CHL Academy for 21st Century Leadership. The experience opened my eyes to opportunities previously unseen; to the realization that the culture and the values we grew up with as Latinos are the keys to success, not only in our own leadership journeys but to the people and organizations we serve."
As Hispanic Leader of the Month, Espinoza and his accomplishments are featured on the CHL Academy home page. He also has his own micro-page on the site, where he shares the influence of his Hispanic heritage on his life and career success. For those interested in learning more about his story, an inspiring feature article, Finding Authenticity on My Leadership Journey, details his corporate leadership experience and how it accelerated when he let it be guided by his Hispanic heritage and values.
Further explaining the decision to recognize Espinoza, Llopis said: "Through CHL Academy, Mark has started to realize his dream of becoming a more authentic leader by embracing and sharing his Hispanic culture, which has enabled him to see and seize new opportunities – not only for himself but for others as well. For example, since CHL, Mark has leveraged his chair position on the Hispanic Latino Associate Resource Group to help create the first Hispanic Officers Caucus at Walmart. He was also the first associate resource group chair to present to Walmart's board of directors. And he helped plan their first Hispanic Forum, which focused on developing the Hispanic talent pipeline at Walmart."
In addition to his role at Walmart, Espinoza has served on a number of national advisory committees and currently serves as a board member for the Hispanic Women's Organization of Arkansas.
For more information or to nominate a Hispanic Leader of the Month, please contact Sandy Sickler at sandy(at)glennllopisgroup.com or via phone at 949-842-6204.