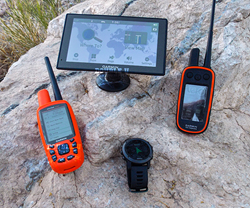 "The DriveTrack 70 is the product we at Double U Hunting Supply have been waiting for."
Yacolt, WA (PRWEB) June 16, 2016
Garmin International, the global leader in GPS technology, has announced the release of a new product for the dog tracking line up; the DriveTrack 70. The Garmin Astro and Alpha dog tracking system has set the bar high in dog tracking and training systems. The DriveTrack 70 is a Large Screen device which receives dog positions wirelessly from the newly released Astro 430 or Alpha 100 (software update required).
The Garmin DriveTrack 70 is a product we at Double U Hunting Supply have been waiting several years for. It takes vehicle dog tracking to a whole new level with features like a bright 7 inch touchscreen, dashboard navigation, pinch to zoom, and the ability to be coupled with a backup/baby camera.
The DriveTrack 70 comes preloaded with TOPO U.S. 100k maps and a one year free subscription to Birdseye Satellite Imagery. Garmin also provided a handy microSD card slot so the user can load any Garmin compatible map with ease. Buddy Woodberry at Double U Hunting Supply says, "finally a screen big enough for my Dad to see". All I had to do was update my Garmin Alpha 100 and presto! I could track my dogs on a bright 7 inch dash mount screen. The fact that I also get a highly functioning navigation system and the ability to hook up a backup camera that makes hitching up my trailer a snap is a real bonus!." The DriveTrack 70 will receive the Dog List from either the new Astro 430 or an Alpha 100 (Software update required)
Garmin also announced the New Garmin Astro 430; The tuned up Astro 430 now boasts capabilities such as the ability to track both GPS and GLONASS, can track up to 20 dogs at a range of up to 9 miles with updated position locations every 2.5 seconds.
In addition to the new Astro 430 and the DriveTrack 70 Garmin decided to go out on a limb and add a handy dog tracking feature to their Fenix 3 wrist watch line up. At the glance of a wrist the user will be able to tell what direction and how far a dog is from their location. "It doesn't get any handier than that" says Buddy Woodberry.
In case that wasn't enough Garmin went back and reconfigured the DC 50 software to be compatible on the new Astro 430 and the Alpha 100.
"Double U will be taking Pre-Orders for the DriveTrack 70 priced at $399.99 and the New Astro 430 at $449.99 starting June 16th 2016. We anticipate the first Astro 430's to ship late June, and the DriveTrack 70's to ship from Garmin around July 20th 2016. For more information or to Pre-Order your device visit http://www.dusupply.com or call Double U Hunting supply.