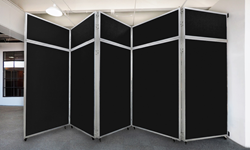 "It can be difficult and expensive to divide space in large, open areas like gymnasiums, warehouses, and offices. Our Operable Wall is there to fill in the gaps." - Robert Jantschek.
Minneapolis, MN (PRWEB) June 16, 2016
Versare Solutions LLC, a manufacturer and retailer of portable room dividers, has created new large room dividers designed to accommodate open areas and rooms with high ceilings. The Operable Wall dividers are available up to 19'2" in length and may be mounted on opposite walls to divide spaces up to 39'. These large-scale room dividers are designed for use in areas that can't accept a track-mounted system, and are a low-cost alternative to higher-priced accordion door systems.
Accordion doors, commonly found in churches, schools, and older offices, can be an expensive and time-consuming undertaking to install. Many businesses have reported dealing with building codes and permits since HVAC regulations often require air to circulate correctly even when dividers are closed. The Operable Wall not only provides consumers with a more cost-efficient solution, but also doesn't interfere with air circulation since the top of the divider leaves space between the ceiling.
Operable Wall dividers come in folding or sliding preparation and feature two-inch thick acoustic panels to help dampen sound. Versare shoppers have the option to cover their panels with over twenty colors of sound-dampening, pushpin-accepting acoustic fabrics. The fiberglass cores and honeycomb construction within Versare's acoustical fabric panels are rated 0.65 NRC, providing enhanced acoustical control. Operable Wall room dividers utilize a clear anodized aluminum frame construction, which offers increased stability and durability. Polycarbonate window options allow light to permeate into areas.
Despite its massive size, the Operable Wall divider is designed for easy usage with a built-in handle. A unique, flexible hinge system provides slight vertical movement for each panel, allowing the divider to traverse uneven flooring with ease.
Versare's large room dividers are made in the USA, include a three-year warranty, and ship for free. The Operable Wall dividers can be purchased online at Versare.com.
About Versare:
Versare Solutions, Inc. is a Minneapolis-based manufacturer and retailer of portable room dividers, privacy screens, partitions, barricades, and other portable products. Versare handles the manufacturing and shipping of all products directly from their MN headquarters, with most products being built in the USA. Co-founders Robert Jantschek & Jeff Ryan initially created the company to offer a more lightweight, durable, and sturdy room divider than what had previously been found on the market. Their selection of products has grown over the years to include a wide array of portable barricades, configurable office cubicle partitions, economical fabric dividers, and outdoor wicker privacy screens.