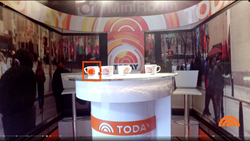 WIREWAX has been pushing video into an intelligent asset with its interactive video tool and to have this technology at our fingertips provides a great opportunity to engage with our online audience
New York, NY (PRWEB) June 17, 2016
WIREWAX has become known as 'connected video' after pioneering the use of artificial intelligence to automatically track people, objects and scenes inside a video to then allow audiences to click and touch what specifically interests them. Ultimately making a new digital reference point (or even 'href') for the things inside video.
The concept is a leap for "interactive video", which has been entirely manual to this point and largely recognized for simple annotations or buttons on video.
NBCUniversal have been using the technology for 2 years, mainly in creating interactive trailers for the likes of Blacklist and USA's Graceland, but today the world's first breakfast TV programme, 'The TODAY Show' has just become the first TV show to become an entirely self-serving user of the WIREWAX interactive video tool.
The move comes at a time of significant change in the online video market as creators look to control their own destiny by creating new experiences and new revenue opportunities from a medium that has struggled to develop monetization beyond the pre-roll advert. Pre-roll itself has come into controversy and question with Ad blockers and a general lack of viewer interest.
This is the first time WIREWAX has announced growth numbers for its tool, which now total some 18,000 users - 3x that of Brightcove. Historically an agency style business with a free limited tool, WIREWAX has been developing its toolset after the last 6 months of surging demand from the self-serve market.
WIREWAX's latest release now offers subscriptions and extensive features like video branching, offline interactive video and WIREWAX Sync™ which have introduced huge workflow improvements with video platforms like Comcast's thePlatform and Brightcove.
Ashley Parrish, Executive Producer of TODAY Digital said, "We're innovating all aspects of TODAY but we are especially focused on experimenting within the medium of video. WIREWAX has been pushing video into an intelligent asset with its interactive video tool and to have this technology at our fingertips provides a great opportunity to engage with our online audience in a distinctly new way. For example, our tour of the White House has been transformed into a discoverable journey, proving the power of video when it's made interactive."
+ Interact with the latest TODAY Show video here
+ See WIREWAX.com here.
+ Get brand assets here.
+ Watch & Download a video of a viewer interacting with NBC - TODAY Show.