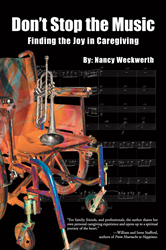 I don't believe people should merely get by.
LOS ANGELES (PRWEB) June 17, 2016
For many, Feb. 12, 1991, may have been an average day. For Nancy Weckwerth, it was the day that changed the course of the rest of her life. This was the day Nancy's partner suffered a massive stroke.
For Weckwerth, a horn player, pianist and composer, her partner's stroke meant changing careers more than once and embracing her role as primary decision maker, all for the sake of being sure the love of her life had access to the care he needed.
Now, 25 years later, Weckwerth has published "Don't Stop the Music: Finding the Joy in Caregiving," a retelling of the author's own experiences in caregiving that she hopes will help the many others who are suddenly thrust into a similar situation. According to the Family Caregiver Alliance, approximately 43.5 million caregivers have provided unpaid care to an adult or child in the last 12 months.
Over the last two decades, Weckwerth has read many books on the topic, finding that most explain general ideas about how to be a caregiver, how to find help and where to locate resources, but none offered solutions to personally thriving through the difficult situation. It was this realization that led to "Don't Stop the Music."
"I don't believe people should merely get by," said Weckwerth. "We didn't choose our circumstances, but as a survivor, John has thrived. As a caregiver, I have thrived. I knew I needed to share what we've learned and how we did it."
Weckwerth attributes her and her partner's success in overcoming the many challenges associated with the stroke to facing the problems head on and with a positive attitude, using adverse situations as a vehicle for personal and spiritual growth.
For more information, visit http://www.nancyweckwerthauthor.com/
Don't Stop the Music: Finding the Joy in Caregiving
By Nancy Weckwerth
ISBN: 978-1-50434-465-4
Available in softcover, hardcover, e-book
Available on Amazon, Barnes & Noble and Balboa Press online bookstores
About the author
Nancy Weckwerth holds a Master of Music in performance from University of Miami, a Bachelor of Arts in music education from University of Miami and a certificate in composition for the music industry from University of Southern California. She has over 25 published musical compositions and arrangements. Weckwerth currently works as a REALTOR® in Southern California.
# # #
**FOR IMMEDIATE RELEASE**
For review copies or interview requests, contact:
Courtney Alvey
317.602.7137
calvey(at)bohlsengroup(dot)com