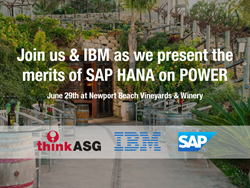 While SAP HANA is an effective in-memory database platform, allowing real-time analytics from vital business data, it's only as effective as the infrastructure platform it runs on. - Tom Orr, SAP Solutions Expert for thinkASG
Lake Forest, CA (PRWEB) June 20, 2016
On June 29, thinkASG is joining IBM experts Doug Carlson and Alfred Freudenberger at the Newport Beach Vineyards and Winery to discuss SAP HANA and the merits of using IBM Power Systems as a platform to run the environment. The event, which includes both a discussion and a question-and-answer session, is an exceptional learning opportunity for those who are using SAP HANA or are interested in making the move to SAP HANA for their businesses.
As a premier IBM business partner, thinkASG is uniquely positioned to help event attendees understand the benefits of IBM Power Systems. The IT solutions provider has many years of experience using IBM Power Systems to help clients run critical business applications, including SAP HANA, and has found the system to be both effective and efficient.
"While SAP HANA is an effective in-memory database platform, allowing real-time analytics from vital business data, it's only as effective as the infrastructure platform it runs on. At thinkASG, we believe that SAP HANA combined with IBM Power Systems provides the best possible combination," said Tom Orr, SAP Solutions Expert for thinkASG.
At the event, Carlson and Freudenberger plan to discuss how the POWER compute platform is specially designed to run SAP HANA efficiently. The presentation is set up as an interactive dialogue followed by a question and answer session to ensure all guests get their questions answered.
According to thinkASG, the event is designed for those who are already running SAP ERP and SAP HANA and wish to learn how to create a more effective environment. It is also ideal for those looking for more information on the merits of SAP HANA and how the IBM Power Systems platform optimizes its effectiveness. In addition to the discussion and question-and-answer time, the event will include a dinner and wine tasting hosted at the Newport Beach Vineyards and Winery. Those interested in attending the dinner and discussion need to register ahead of time. The event will begin at 4 p.m. on Wednesday, June 29. For those who cannot attend, a livestream of the presentation and question-and-answer session will be available. LIvestream attendees will be able to glean all of the information provided at the event, as long as they are able to connect to the Internet during the event. Those interested in participating in the livestream need to register as a livestream participant prior to the event. Learn more at http://ow.ly/mNU7301lhIH
About thinkASG
thinkASG is an IT Solutions Provider headquartered in Southern California. thingASG partners with clients to build hybrid compute and storage infrastructures that will meet a business's specific needs. The team at thinkASG views IT as something organic, with distinct components working together to meet the application needs of the business, rather than working as separate components. Through the services of thinkASG, companies gain expertise in ERP environments, data/storage optimization, continuity and high availability. Learn more about thinkASG at http://www.thinkasg.com.