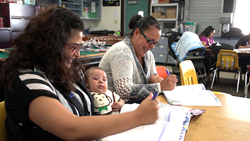 'The talk gap has really become a form of public health crisis,' said Dr. Stephen Hannon, president of the LENA Research Foundation.
(PRWEB) June 17, 2016
The LENA Research Foundation and Texas Children's Hospital are pleased to announce the launch of upWORDS, a program for families in the Houston area beginning this summer. The upWORDS program will use the LENA Start™ model, which features group classes for parents in English and Spanish that employ LENA's "talk pedometer" technology to measure how much parents are talking with their babies and how much their babies are responding in return.
LENA Start classes help parents and caregivers of infants and toddlers (0-30 months) close the "talk gap." Research indicates that academic achievement gaps exist because many children experience millions of fewer words and conversations than their peers during these critical early years when babies' brains are growing to 80 percent of their adult size. LENA Start provides a series of efficient, engaging parent sessions where caregivers learn to use feedback from the LENA System™ about their home language environment, along with simple strategies to increase interactive talk with their children.
Since its introduction in 2015, LENA Start has been implemented by school districts, library systems, and other types of organizations in Huntsville, Ala., San Mateo County, Calif., Ames, Iowa, and Minneapolis, Minn. Texas Children's is the first regional healthcare center to adopt the model. Results from initial implementations show an 82% graduation rate, with improvements in three key areas:

78 percent of adult caregivers are speaking more to their babies
67 percent of families are having more conversations with their babies
Families reported reading twice as much with their babies as before
Children's language scores are showing significant growth
"We are so proud to be one of the first hospitals to launch a program like this," said Dr. Christopher Greeley, chief of the Section of Public Health Pediatrics at Texas Children's. "The earliest years of a child's life present an incredible window of opportunity to deeply impact their growth and development. We often wait until the child hits pre-school or kindergarten before we worry about language and speech. This program will allow us to train parents on language progression and techniques to understand how to provide the most successful environment for their child during these critical years."
As noted in a recent editorial in The Journal of the American Medical Association, many healthcare organizations are expanding their missions to include health management for broader populations. This expansion offers a critical opportunity to move toward initiatives aimed not only at managing, but at improving the health of broader populations, or what the authors term the "third curve" of academic health systems. The authors point out that realizing the third curve will require a broad range of cross-sector partnerships to "meaningfully tackle the panoply of factors underlying health outcomes."
"The talk gap has really become a form of public health crisis," said Dr. Stephen Hannon, president of the LENA Research Foundation. "The team at Texas Children's understands that, which is why we're thrilled to work with them on this program, furthering their mission to create a healthier future for women and children and our mission to close opportunity gaps through accelerating language development."
In addition to parent group meetings, the upWORDS program will include an individual coaching component. Parents will meet with experts at Texas Children's twice a month and focus on techniques tailored to their children to help achieve the best possible developmental outcomes.
The LENA Research Foundation is discussing additional locations across the country for the fall of 2016 and the spring of 2017, with agencies ranging from school districts and public service organizations to municipal governments and health-care providers.
About the LENA Research Foundation
The LENA Research Foundation is a 501(c)(3) public charity based in Boulder, Colorado. Its mission is to accelerate language development to improve the cognitive, social, and emotional health of children birth to five and close achievement gaps. Used by researchers and clinicians all over the world, the LENA System™ measures a child's language environment and provides vital feedback to parents and professionals in programs dedicated to closing the language, learning, and opportunity gap for underprivileged children. For information on the foundation or LENA Start, call 866-503-9918, or email info(at)lenafoundation(dot)org.