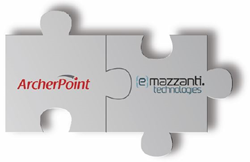 eMazzanti has been that extra arm a growing organization needs to provide all the attention that customers require
Hoboken, NJ (PRWEB) June 17, 2016
eMazzanti Technologies, a New York City area IT consultant and managed services provider, has published a new case study demonstrating the IT expert's depth and skill for providing retail sector infrastructure and cloud services. eMazzanti works closely with resellers of the LS Retail software for retailers to provide IT services to their customers.
The study relates how Archer Point Retail, a growing LS Retail value added reseller (VAR) was able to focus more on customers while eMazzanti managed all of the infrastructure design and deployment details. The relationship provided Archer Point with the bandwidth they needed to double their business over the last year.
"eMazzanti has been that extra arm a growing organization needs to provide all the attention that customers require," stated Tina Terrezza, Business Development Manager, Archer Point Retail.
Below are a few excerpts from the case study: "LS Retail Partner ArcherPoint Teams Up with eMazzanti."
Archer Point Retail – An Extra Arm to Grow the Business
"As a 2015 Global Microsoft ISV of the Year, LS Retail depends on strategic partners to deliver complete omni-channel software solutions for every segment of the industry. Several LS Retail partners count on eMazzanti Technologies to deliver seamless infrastructure and cloud services, key components of their Microsoft Dynamics offerings."
"When ArcherPoint Retail sought extra bandwidth to rapidly grow the business, LS Retail suggested that they speak with Carl Mazzanti, CEO at eMazzanti Technologies. 'It was clear to me from our first communication that Carl had great intentions to help partners address the needs of their customers,' related Terrezza."
"When Terrezza introduces a customer to eMazzanti, they take the ball and run with it while she focuses on the software. 'What's great is the personal attention and follow-thru our customers are getting instead of just a hardware quote', she said."
Other related resource information:
Is Your Infrastructure Leaking Money?
How to Improve Customer Wi-Fi Performance
About eMazzanti Technologies
eMazzanti's team of trained, certified IT experts rapidly deliver cloud and mobile solutions, multi-site implementations, 24×7 outsourced network management, remote monitoring and support to increase productivity, data security and revenue growth for clients ranging from law firms to high-end global retailers.
eMazzanti has made the Inc. 5000 list six years running, is a 2015, 2013 and 2012 Microsoft Partner of the Year, and a 5X WatchGuard Partner of the Year. Contact: 1-866-362-9926, info(at)emazzanti(dot)net or http://www.emazzanti.net Twitter: @emazzanti Facebook: Facebook.com/emazzantitechnologies.