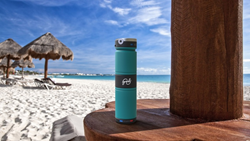 This truly is an all-in-one bottle that will be the last bottle you'll ever need to buy because Golchi is designed for convenience for all different lifestyles on the go. The days of carrying around multiple bottles are over.
Chicago, IL (PRWEB) June 17, 2016
Golchi, the versatile multi-liquid bottle that includes temperature controls, a separate dry storage compartment and a modern, great looking design, unveiled its crowdfunding campaign on Kickstarter.
Golchi will be most versatile bottle on the market because of its many innovative features, including the ability to carry two beverages in any combination of hot and cold at the same time. Its vacuum-insulated compartments will keep cold drinks chilling for 24 hours and hot drinks piping hot for 12 hours. It also comes with a temperature gauge, so there's never any doubt which compartment has the cold and hot liquids.
Golchi adapts to every drinking situation and can be used in four different modes. Like a genie in a bottle, it can magically go from big to small, or become one or two bottles in an instant. Its modular design also includes a separate storage compartment, the perfect place to store protein powder, baby formula, cereal, snacks or even medicine.
"Technology has transformed many products and we knew that the everyday bottle had room for major improvements," said Golchi Co-Founder Harsh Garg. "This truly is an all-in-one bottle that will be the last bottle you'll ever need to buy because Golchi is designed for convenience for all different lifestyles on the go. The days of carrying around multiple bottles are over."
With different beverages come different ways to drink them, and Golchi has also covered that with its patented controlled-flow mechanism. Users can pick the size of the drinking spout based on the beverages they are about to consume. With a movable slider and three level locking points, it can be adjusted to make the spout small for hot beverages and enlarged for cold drinks.
The multi-purpose lower compartment is standardized to carry soda cans and because of its wide mouth it can also be used as a food canister for carrying breakfast cereals or a variety of snacks.
For tea lovers, Golchi comes with an add-on, collapsible tea infuser. It can be carried in the middle compartment and placed on the mouth of lower compartment when in use. It can also be used with cups of varying sizes since it comes with built-in extenders for the perfect fit.
With a triple layer of protection at both ends, Golchi is leak-proof with its lock and anti-lock thread design to ensure that drinks are stored securely.
Additional features include:

Collapsible handle: In its closed position, it aligns perfectly with the curve of the lid to enhance the look of bottle
Finger grip
Magnetic lock mechanism in bottom lid
Dual side opening
Super easy to clean because the bottle splits open in the middle
Dishwasher safe
Easily fits into most car cup holders, bike cages and side pockets of backpacks
Available in six colors and four cool styles
It's estimated that an average person consumes six different beverages daily including hot water, ice water, coffee, tea, smoothies, juice, sports drinks, energy drinks, sodas, cocktails, soups and more.
"We all have busy multi-faceted lifestyles and we consume a wide range of beverages to keep us going," added Golchi Co-Founder Ankita Garg. "This is why we created Golchi as the one bottle that can be your everywhere, everyday companion. We designed Golchi to be the last bottle you will ever need to buy."
Golchi launched with super early bird discounted prices on Kickstarter. Pre-order now and never use multiple bottles again. For more information, and to pre-order Golchi visit: https://www.kickstarter.com/projects/1527883519/golchi-worlds-most-versatile-and-customizable-bott
About Golchi
Golchi LLC is a Chicago-based startup company focused on re-imagining everyday products for people with active lifestyles. 'Golchi' was created with 'GO' and 'Chill' as two core ideas and a name free from confines of any language. The company also developed a logo that has character, is compatible with 'invertible' nature of our bottle and representative of the thought put into the bottle design. The terms "go" and "ch" in the logo denote two compartments of our bottle. The two dots on the sides of the logo depict two openings on the either side of our bottle. The logo is also an ambigram, which when rotated by 180 degrees in any direction, it retains its identity. For more information, visit https://www.facebook.com/MyGolchi/.