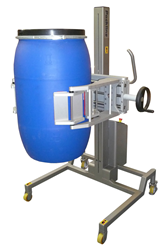 The roll and barrel handling equipment with upright front castors is the ideal solution to increase efficiency and improve health and safety conditions.
(PRWEB) August 15, 2016
Packline Materials Handling announce their new roll and barrel handling equipment designed with upright front castors for easy and safe manoeuvring along narrow production lines. Manufactured from stainless steel this roll handling solution is ideal for clean room environments such as food and pharmaceutical industries.
Packline's 'Compac' roll and barrel handling equipment is a proven and tested solution for most manual handling applications.
The standard lifter's front castors are mounted facing forwards and allow for easy movement. The rocking pallet wheel assembly, when mounted, allows for easy access to the pallet.
The rear castors are braked and supplied with a foot guard to protect the operator.
This roll or barrel handling equipment was needed in an environment where once loaded, the lifter needed to be pushed up a slight incline and onto a flat surface. For this reason, the front castors are mounted facing downwards and extensions added to the rear castors.
This enabled the roll lifter to 'rock over' the incline and onto the flat surface.
The roll handler's column height was decreased to 66.93 inches (1700mm) to ensure that the lifter was suitable for a specific confined space, enabling the lifter to pass through a low height doorway.
It was important that the lifting attachment would not allow the load to swing forwards and backwards in any way. This would cause the lifter to become unstable, hence the clamp attachment was designed as a fixed solution.
Specifications:

Safe working load (SWL): 330.70lbs (150kg) or 661.39lbs (300kg).
Charging Supply: 240v, 110v or 110v USA.
Leg Length: 13.78 inches (350mm) up to 39.37 inches (1000mm).
Leg Width: 19.69 inches (500mm) up to 39.37 inches (1000mm).
Column Height: 43.31 inches (1100mm) up to 98.43 inches (2500mm).
Operation: push buttons or remote control.
Ideally suited for clean room environments, the stainless steel range of roll and barrel handling equipment is suitable for use in the following industries:

Food
Drinks and Beverages
Dairy
Pharmaceutical
Medical
Chemical
FMCG (Fast Moving Consumer Goods)
The purpose-designed compact framework, positioning of handlebars and addition of an optional remote control device provide improved manoeuvrability and ease of use for the operator.
The small footprint makes this roll handling equipment highly manoeuvrable and a natural choice for today's narrow production lines and demanding lifting requirements.
Packline Materials Handling is able to provide bespoke roll and barrel lifting and handling solutions by creating new concepts or tailoring existing handling equipment to meet specific requirements.
For further information on the roll and barrel handling equipment with upright front castors, or the full range of lifting and handling equipment, please contact Packline Materials Handling, or contact Ultrasource LLC in the USA for more information on the 'EZ Lift'.
Packline Ltd
Unit 28
Newtown Business Park
Ringwood Road
Poole, Dorset
BH12 3LL, UK
USA Distributor:
Ultrasource USA LLC
1414 West 29th Street
Kansas City, MO 64108-3604
(O): 816.360.2034 | Ext 2034
http://www.ultrasourceusa.com/
For a full list of worldwide distributors please visit Packline's website.