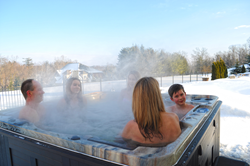 Never cut corners when buying a hot tub or swim spa!
(PRWEB UK) 19 June 2016
Hot tubs have become an extremely popular choice for people looking to create the dream garden. With an estimated 200,000 hot tubs currently in the UK and the annual number sold close to 10,000.
Of that 10,000 part of this growth is due to sales to the holiday lettings market. But it seems that once people have opted for a British staycation with a hot tub they usually decide that they would like to purchase one for themselves so that they can then enjoy the health and relaxation benefits on a daily basis at home.
With such a vast market of choice, buying the right hot tub can a difficult task. How do you know; What type of hot tub to buy, how to look after it and ultimately whether it's going to be safe to use?
As with any purchase, especially, for a high-ticket item such as a hot tub, it's never safe to cut corners. As the adage says "You get what you pay for." And you certainly do when it comes to a hot tub purchase.
The British and Irish Spa and Hot Tub Association – BISHTA is the Trade Association for the Spa and Hot Tub manufacturers, importers, retailers, suppliers, service/maintenance engineers and holiday venues hiring out hot tubs in the UK.
BISHTA advises - buying from a BISHTA member, either from their showroom, on their internet site, or from an exhibition, should ensure that you get the best advice and find the item that you wish to purchase that suits your needs and budget requirements. BISHTA members are trained and experienced to provide knowledge about the products and most importantly, the water treatment regime that is required to maintain hot tubs and swim spas safely. BISHTA members are expected to work to industry standards and to abide by a Code of Ethics, which is an incentive that can offer purchasers peace of mind that they are buying from a reputable company who can provide after sales support and maintenance plans.
Sadly there are occasions when customers have bought products from companies that are not BISHTA members, in particular on the internet, thinking they are getting a great bargain, only to be totally let down by poor quality products, or shoddy after sales service. In the longer term, this can end up costing, even more, money as a result of not asking the right questions from the outset.
When purchasing BISHTA recommend that you follow a ten-point checklist.
1. Make sure you know what you want the Spa or Hot Tub for as this may influence the equipment that you need. For instance, is it for fun, medical reasons or relaxation. Clarify what features you will be getting regarding the number of seats, number and style of jets, entertainment systems available and the manufacturer of the control box (powerpack).
2. Confirm what water treatment is required, so that you can be sure that you know how to maintain the water chemistry for the safest way to relax and enjoy yourself. Anyone that does not offer you this advice should be avoided at all costs, as they may be putting you and your family at risk.
3. Some hot tubs can be plugged into a socket with a three pin plug and may only require a 13 amp fuse, depending on the heater and pump size, so check this very carefully with the retailer/supplier.Other hot tubs need to be wired into the mains, and so you will need to ensure a qualified electrician can connect your Spa or Hot Tub to the mains supply. Only a Part P registered/certified electrician should make the installation.
4. Do not purchase a hot tub if the company does not undertake a site survey. Otherwise, there may be problems when the hot tub arrives. It may be too large to be moved to its location in your garden, plus it may not fit the area when it's in position.
5. Some internet providers have products that customers may believe to be from one country, but are actually from an entirely different continent, so check carefully and do not assume a name means that product is from that country!
6. If you are unsure if an internet company is going to be reliable, find out where the company is based and go and visit them.
7. Ask who the manufacturer of the Hot Tub is and check out their website to clarify where their equipment is manufactured, as at least one company we know of may be misleading potential customers by suggesting that their product is manufactured in America when it is manufactured in China.
8. Ask to see the warranty on offer before you buy as this may vary between products and in some instances it may not be provided by the same company, which may cause difficulties.Check what arrangements there are for call outs and servicing if anything goes wrong with your purchase, including timescales and costs.
9. Before making the purchase, clarify in writing when the product is to be delivered. Genuine companies will inform you if there is going to be a delay in receiving your goods. Sometimes legitimate companies will need to wait for a full container to be shipped to the UK, while other companies may try and mislead you, so it's always recommended to get the details in writing.
10. Ask to speak with genuine satisfied customers and check customer reviews on the internet, but be careful as at least one customer feedback site that we have seen appears to be very suspicious as there is only positive feedback for one company!
Ultimately the most import check is if they are BISHTA members as the association works on behalf of the industry to promote hot tub ownership and the promotion of safe spa water. If they are a BISHTA member you, know that you have peace of mind with your purchase. Start by visiting http://www.bishta.co.uk where you can find your nearest approved member and find lots more FREE hot tub tips and advice to bring health and well-being to your life!