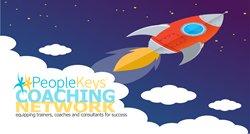 Coaches who are educated about DISC theory can help their clients gain empathy and understanding of themselves and the people around them
Boardman, Ohio (PRWEB) June 19, 2016
Today, PeopleKeys, a leading expert on the subject of human personality and behavioral analysis, announced the second installment of their Coaching Network Webinar series. This webinar, titled "What should I Charge my Clients?" addresses practical concerns that plague coaches - how to charge for their services. This webinar corresponds with the goals for the series including helping coaches create innovative ways to assist their clients while employing advanced behavioral analysis techniques. The webinar series will also facilitate coaches' understanding of contemporary coaching strategies and procedures.
Coaching is a burgeoning field whose employment has grown by 20x over the last few years. Coaches seek to advise and assist clients in a myriad of circumstances including, but not limited to, workplace conflicts, hiring queries, relationship communication issues, and conflict resolution. Since coaching services and accreditation varies from individual to individual, PeopleKeys offers a Behavioral Life Coach Certification Program which gives insight to specific situations in coaching. To supplement this program, they are offering webinars to help Coaches build and maintain their business. The series revolves around a more pragmatic and comprehensive approach to focus on helping coaches determine pricing and charge their clients in accordance with their expertise and experience.
"Coaches are always looking for ways to add value for their customer. By enhancing their knowledge of human behavior using a thorough understanding of DISC theory, coaches can offer even more beneficial advice to their clients. Coaches who are educated about DISC theory can help their clients gain empathy and understanding of themselves and the people around them. They can facilitate growth through an understanding of behavior that would have been baffling otherwise, and they can greatly improve communication and relationships for their clients. This is such a significant benefit for their clients, and it can be a difficult thing to attach a monetary value to without a little bit of outside advice," said Kaitlyn Miller, Marketing Manager for PeopleKeys.
The webinar, led by PeopleKeys Master Trainer John Schindell, expert in Behavioral Analysis, will be held on Friday July 22nd. The Coaching Network Webinar series registration is free. Interested parties may register for one particular webinar or the entire series. They will be presented live at 11am EST on their slated dates and on-demand via PeopleKeys website the following day.
For more information about PeopleKeys, DISC, their personality assessments and behavioral analysis tools, or to register for any of the PeopleKeys Coaching Network webinars, visit peoplekeys.com
More about PeopleKeys:
As an International leader on the subject of behavioral assessment and personality, PeopleKeys has been facilitating a better understanding of human behavior for over 35 years. Their philosophy is that a better understanding of personality can improve communication, workplace morale, reduce stress in relationships, and help people unlock their potential. DISC theory based assessments, reports, webinars and behavioral analysis tools provided by PeopleKeys are uniquely suited to help companies, ministries, and individuals improve their people skills and, subsequently, the lives of the people involved. PeopleKeys' products have been translated into numerous languages and are available Internationally. To learn more about how PeopleKeys can help you unlock your people potential, contact Kaitlyn Miller, Marketing Manager, at 330-599-5580 x113.