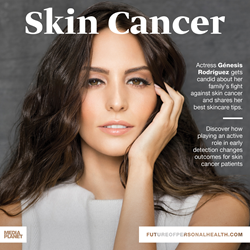 (PRWEB) June 17, 2016
The print component of "Skin Cancer" is distributed within the June 17 edition of USA Today in Los Angeles, New York, Philadelphia, Chicago, Seattle, Atlanta, Phoenix and South Florida, with a circulation of approximately 450,000 copies and an estimated readership of 1.3 million. The digital component is distributed nationally, through a vast social media strategy and across a network of top news sites and partner media outlets. To explore the digital version of the campaign,click here.
Each year, there are more new cases of skin cancer than all other cancers combined. With this in mind, Mediaplanet is enlisting the help of The American College of Mohs Surgery, among others, to foster wider awareness about how to live well and make smart decisions regarding treatment options.
Mohs Micrographic Surgery is considered the gold standard in skin cancer treatment due to many advantages over other treatment options. Mohs has one of the highest cure rates—up to 99% for primary cancers and 94% for recurrent cancers. The procedure is most often performed in an office setting, maximizing patient confidence and convenience without the use of general anesthesia. The surgery is cost-comparable to similar treatments, and is the best option for sparing healthy tissue and ensuring a good cosmetic and final result.
This campaign was made possible with support from The American College of Mohs Surgery (ACMS), an organization of fellowship-trained skin cancer and reconstructive surgeons. The ACMS is both the oldest and largest professional membership organization for Mohs surgeons.
For more information about the ACMS, visit http://www.MohsCollege.org or http://www.skincancermohssurgery.org.
About The American College of Mohs Surgery
The American College of Mohs Surgery (ACMS) is a membership organization of 1,400 fellowship-trained skin cancer and reconstructive surgeons specializing in the Mohs micrographic surgical technique used to treat skin cancer. The ACMS serves as the voice of the specialty, promoting and advancing the highest standards of patient care through fellowship training, research, education and public advocacy. The organization was founded in 1967 by Dr. Frederic E. Mohs, who pioneered the technique of removing skin cancer in stages, one tissue layer at a time, resulting in minimal damage to surrounding healthy tissue. The ACMS is the only organization that requires members to have completed an extensive one- to two-year, accredited fellowship training program after completing their years of residency training.
About Mediaplanet
Mediaplanet is the leading independent publisher of content-marketing campaigns covering a variety of topics and industries. We turn consumer interest into action by providing readers with motivational editorial, pairing it with relevant advertisers and distributing it within top newspapers and online platforms around the world.
Press Contact:
Lauren Spera / lauren.spera(at)mediaplanet(dot)com / 646-755-7967