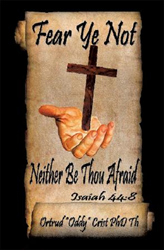 ... provides them hundreds of Bible verses to encourage ...
Kannapolis, NC (PRWEB) June 20, 2016
Ortrud (Oddy) Crist's new book, Fear Not; Neither Be Thou Afraid, ($16.99, paperback, 9781498473965; $8.99, e-book, 9781498473972) explains why the author believes that it is the utmost importance that Christians make themselves available to receive God's instructions, through the Holy Spirit, to build up their faith to withstand the fiery darts of the enemy and not become victims of Christian Battle Fatigue. Throughout the Bible, God has made His intentions known to help His children through difficult times. If a Christian has ever wondered why it was necessary for God to include hundreds of verses in the Bible to tell His human creation not to fear, this book is a must-have read that thoroughly answers that question.
Oddy Crist explains that God was pleased with His Creation and on the 6th day He even pronounced His work 'very good'? But fear entered humankind through Adam's and Eve's disobedience to God's warning to 'not eat of the tree of good and evil' – which He said – would result in spiritual death for them. Readers need to understand that FEAR is a tool of Satan to disrupt man's fellowship with God. By accepting Jesus into their heart, the relationship between God and humans is restored and they have the right to be called 'the children of God'. As such, they also have received the mind of Christ – and will be guided by the Holy Spirit to grow into the person God has designed for them to be – free from Satan's tool FEAR.
"It is my hope that the reader will find comfort and reassurance when reading my book and keep it handy right next to their Bible," states the author. "Because, most people when they are under attack by the enemy, cannot find the encouraging verses interspersed throughout the Bible when they are upset, depressed, without hope and with feelings of abandonment. The main portion of the book readily provides them hundreds of Bible verses to encourage them. The Bible also says: In the endtimes people's hearts will fail because of fear. This book also seeks to point them to the comfort and commitment to their peace available through Jesus Christ."
Xulon Press, a division of Salem Media Group, is the world's largest Christian self-publisher, with more than 15,000 titles published to date. Retailers may order Fear Not; Neither Be Thou Afraid through Ingram Book Company and/or Spring Arbor Book Distributors. The book is available online through xulonpress.com/bookstore, amazon.com, and barnesandnoble.com.
Media Contact: Ortrud (Oddy) Crist
Email: oddycrist(at)ctc(dot)net