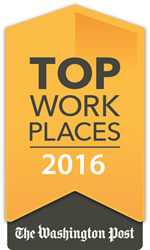 We are so proud to have emerged as an employer of choice in the DC market.
(PRWEB) June 19, 2016
CapTech has been recognized as one of The Washington Post's Top Workplaces for 2016. In its third annual survey, The Washington Post's Top Workplaces list spotlights the highest-rated private, public, nonprofit and government agencies as ranked by their employees. Of over 3,000 companies surveyed, CapTech made its inaugural debut on the list as #27, solidifying its place as a top-tier employer in the Washington, DC area.
"We are so proud to have emerged as an employer of choice in the DC market," says Suzie Turner, Principal. "CapTech strives to be intentionally different from other IT and management consultancies by focusing first and foremost on our employees. Our consultants are energized and proud to be a part of the vision and culture that we are creating. We employ the industry's best and brightest and I'm honored that we are recognized."
A total of 150 companies were honored at a celebration on Thursday, June 16 at The Washington Post. In addition, CapTech will be featured in a special section of The Washington Post on Sunday, June 19.
To read more about The Washington Post's 2016 Top Workplaces, visit wapo.st/TopWorkplaces2016.
###
About CapTech: CapTech (http://www.captechconsulting.com) is a national management consulting firm that bridges the gap between business and technology. CapTech delivers transformation, customer engagement, data & analytics and custom IT solutions for private companies, public companies and government agencies. The company's collaborative approach helps organizations grow their business, engage with customers and turn information into powerful data assets.