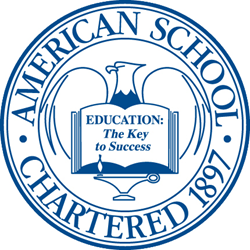 Lansing, IL (PRWEB) July 05, 2016
American School recently held its 78th annual Scholarship Committee Meeting and awarded 18 scholarships to deserving graduates. Permanent committee members and American School trustees Dr. John Kemp and Cher Tufly were joined by this year's guest committee member, David Smith, a former public school superintendent, to select this year's winners. Three students received special awards and won $2000 scholarships. They are:
Nicole Houston
Bozeman, MT
Henry Buresh Alumni Award
Andrew Huang
Herndon, Virginia
R. T. Miller Founders Award
Alyssa Valencia
Springfield, IL
Presidents Award
"Each year we award three scholarships named after a generous benefactor, our founder and our presidents, and we're pleased to award these scholarships to Nicole, Andrew and Alyssa," American School President Gary R. Masterton said. "They were exemplary American School students, and we're confident they're going to do great things in college and beyond."
Fifteen students received $1000 scholarships. They are:
Mohammed Abu Ali
Falls Church, VA
Aimon Arshad
Waco, TX
Rachel Bourne
Omaha, NE
Devahuti Chua
San Pedro, Laguna, Philippines
Amanda Conrad
Manassas, VA
Jennifer Dawson
Fort Collins, CO
Zephaniah Descartes-Jones
Miami Gardens, FL
Aszkara Gilchrist
West Palm Beach, FL
Courtney Houghton
Arlington, TX
Min Ji Jung
Palisades Park, NJ
Najah Mateen
Atlanta, GA
Cameron Mayer
O'Fallon, MO
Jennette Phillips
Holden, MO
Samuel Ratigan
Hayden, ID
Neda Shalabi
Lansing, IL
"We're pleased to award scholarships to the individual listed above as well," Masterton said. "We had many good applicants this year, and our committee had a difficult time determining the winners."
American School scholarship winners are all recent graduates of the venerable distance learning school. Founded in 1897 in Massachusetts, American School moved to Chicago in the early 1900s and now is based in Lansing, Illinois. American School is accredited by MSA-CESS, Ai and NCPSA and offers online and paper-based high school courses and recently introduced online middle school courses. For more information, visit http://www.americanschool.org or call 866-260-7221.