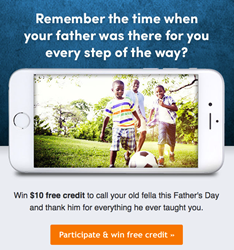 I've been using this service for the past year to make international calls to Haiti and the voice quality has been fantastic. (Jean on Trustpilot.com)
Atlanta, Georgia (PRWEB) June 20, 2016
Haitian expats are invited on I <3 Haiti Facebook page, powered by SalutHaiti.com, to win up to 50 free minutes to call mobiles and landlines in Haiti around Father's Day. The contest starts on June 21 and lasts until June 24, 2016, when the winner will be announced on the Facebook page of the Haitian community: https://www.facebook.com/SalutHaiti/.
To enter the race and win $10 Voice Credit for international calls, Haitians need to leave a comment about what they have learned from their dads. The personal comments will accompany a most touchy video created by SalutHaiti.com team about the small things that make the father-child relationship meaningful and memorable. The video can be watched starting June 21 on the Haiti expat community on Facebook called I <3 Haiti: https://www.facebook.com/SalutHaiti/.
The calling credit winner of the Facebook contest will be determined randomly, using an online tool. The value of the unique prize is $10 which brings the winner up to 50 minutes to call someone in Haiti. More good news is that the Voice Credit balance with SalutHaiti.com is available for life, as it never expires.
The contest is a good opportunity to save on international calls to Haiti. Otherwise, the lowest rate to call mobiles in Haiti is 24.9¢/min, while calls to landlines there cost 19.9¢/min. Another way to save is by collecting Thank You points on each purchase with SalutHaiti.com. These points can be converted into free calls when they amount to 1,000. More details about how to open an account and use the service on SalutHaiti.com can be found on the website.
To redeem the Voice Credit prize of the current Facebook contest, one needs to be registered on SalutHaiti.com. The account costs nothing and comes with a number of advantages:
-There are 4 free features that can optimise calling.
-Customers have direct access to their calling records.
-All transactions and invoices are available online.
-Several payment methods are available: all major cards and PayPal.
-The account is mobile-friendly, just like the rest of the website, so anyone can access it on the go.
-Payment is welcome in any currency, no matter the country of residence.
-Promotions, contests and other events are available on Facebook for all fans or by email, once subscribed to the Newsletter ("Get offers" button in the footer of SalutHaiti.com).
Many Haitians abroad prefer to get their Voice Credit balance online on SalutHaiti.com and that is why rates to call Haiti are so low on this website. It is a big advantage of the virtual calling card generally speaking, compared to a regular calling card one buys from the store.
The online top up process takes a few seconds and there are 3 ways to use the SalutHaiti.com balance from different devices, with or without Internet, according to context and lifestyle:
-KeepCalling app is free to install and uses one's phone contacts. It imports all the functions of SalutHaiti.com and only requires 3G, 4G, or WiFi access to help one make a one-click call.
-Calling through access numbers allows one to make calls without any Internet connection. This is possible anywhere: in the street, at the office, or at home, using any phone, not only a smartphone.
-Web Call is a desktop app, available in one's account. It helps one make PC to phone calls. Any phone can be used, from old school ones to smartphones and landlines. No download is needed.
Besides calls to Haiti and other destinations, SalutHaiti.com facilitates credit transfers to mobiles of friends and relatives in Haiti. The service is called "Mobile Recharge" and it takes less than 1 minute to make the international top up, no matter the distance.
SalutHaiti.com is a website dedicated to the Haitian diaspora. The website is a brand of KeepCalling, a global telecommunications company registered in 2002 in the USA. Presently, KeepCalling provides its services to hundreds of thousands of consumers, with a focus on customer satisfaction. KeepCalling has been listed by Inc 5000 as one of the fastest growing companies in the USA for 5 consecutive years. In 2015 the company registered a revenue increase of over 200% from 2011 to 2014.