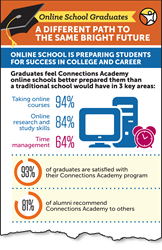 [My program chair] was impressed with Connections Academy preparing me for this opportunity and I passed the interview with flying colors!
Baltimore, MD (PRWEB) June 20, 2016
As students graduate from high schools across the country, one segment of the graduating class is speaking out about their non-traditional school experience. In a new infographic released by Connections Academy and based on survey data, full-time online school students and alumni from Connections Academy-supported schools discuss their education and how it prepared them for success after graduation – specifically at college.
Although online school students traveled a unique path to their high school graduation day, students and alumni assert they are experiencing the same success as their traditional public school peers. Recent graduates tell Connections Academy that they feel better prepared for the increasingly digital world of college and career thanks to their experience at online school, and are being accepted to prestigious colleges and universities throughout the nation.
"The close relationship I have built with many teachers over the years is something I don't feel would have been successfully accomplished in traditional public school. One-on-one interaction with my teachers throughout the day has really helped my educational goals prosper and advance," said Noah Langenfeld, Wisconsin Connections Academy class speaker and Academic Excellence Scholarship recipient. Georgia Connections Academy class speaker and Salutatorian Sean VanMeter agreed: "Fortunately, your Georgia Connections Academy education has prepared you to succeed in the modern business world in more ways than you might think…you learned self-motivation and initiative – skills that are essential for management positions and valuable in any situation."
More than 4,000 students are expected to graduate from Connections Academy-supported schools as part of the Class of 2016, and will receive their diplomas at in-person commencement ceremonies in the 24 states where 12th grade is available. While more than half of this year's graduating class plans to attend 2- or 4-year colleges, other students have plans to join the military or enter the workforce after graduation.
VIEW:
Connections Academy online school graduates infographic
About Connections Academy
Connections Academy is a leading provider of high-quality, highly accountable virtual schooling for students in grades K through 12. Through tuition-free public schools, and full-time and part-time private school programs, Connections Academy delivers superior, personalized education for students, with the freedom and flexibility to experience our online learning community from anywhere. The combination of certified teachers, a proven curriculum, technology tools, and community experiences creates a supportive and successful online learning opportunity for families and children who want an individualized approach to education. Among the schools supported by Connections Academy in the 2015–16 school year are 30 Connections Academy virtual (online) public schools that operate in 26 states. It serves students worldwide through the online private school, International Connections Academy. Connections Academy offers grades K through 12, though some public school programs do not offer all grades. For more information, call 800–382–6010 or visit http://www.ConnectionsAcademy.com. Connections Academy and its parent company, Connections Education, are part of the global learning company Pearson.