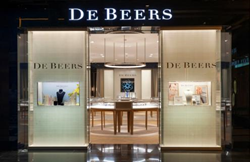 "We are delighted to announce the opening of our new store in Kuwait city at the Avenues mall." François Delage, CEO
(PRWEB) June 28, 2016
De Beers, The Jeweller of Light, is pleased to announce the opening of its new store at The Avenues Mall, Kuwait. The store is the first De Beers location in Kuwait and the third to open in the Middle East market following locations in Dubai and Bahrain.
"We are delighted to announce the opening of our new store in Kuwait city at the Avenues mall. Bringing De Beers to the Kuwait market is an important milestone in the development of our brand and our local clientele. It is an honour to present the exquisite timeless beauty of our diamond jewellery in such a prestigious location and we look forward to inspiring the discerning Kuwaiti women." François Delage CEO, De Beers Diamond Jewellers.
Inspiring women to celebrate their brilliance since 1888, the diamond master hosted an event in honor of talented Kuwaiti women to showcase the launch of the new location.
Located in the Prestige area of The Avenues Mall, the stunning145m2 De Beers store embodies a feminine, luminous and elegant expression of the brand's DNA, featuring the signature etched glass bringing to light the wondrous diamonds and exquisite jewellery.
De Beers has a worldwide presence with stores located in key flagship locations including Old Bond Street in London, Madison Avenue in New York, Printemps and Galeries Lafayette in Paris, Shin Kong Place in Beijing, IFC in Shanghai, The Landmark in Hong Kong, and Ginza in Tokyo.
Drawing on over 125 years of diamond expertise, De Beers is dedicated to delivering excellence in diamond brilliance and craftsmanship. The De Beers individual diamond selection is surpassed by none. Every location around the world is equipped with the exclusive De Beers Iris machine to demonstrate the unique beauty of diamonds from De Beers Diamond Jewellers. 'A Diamond is Forever' encapsulates the powerful combination of emotion and expertise the brand brings to its clients.
De Beers Diamond Jewellers at The Avenues Mall
The Avenues Mall
Prestige Area
De Beers Store
Kuwait
Hours of Operation
Sunday - Saturday
10:00 AM - 10:00 PM