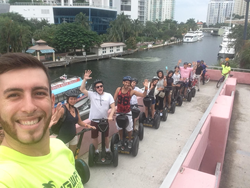 I am extremely grateful to be able to provide experiences to families while passing on a message I learned which is to take advantage of the time that you have with your loved ones and show appreciation for them while you can
Fort Lauderdale, Fla. (PRWEB) June 17, 2016
Segway Fort Lauderdale is hosting Segway excursions on Fathers Day in memory of Rick Rosen, the father of Owner Jon Rosen, who passed away from a heart attack November 2009 and put Jon in position to start a business.
The Segway tours start downtown at Riverfront and takes riders along the New River and Rio Vista where they pass by multi-million dollar yachts and beautiful mansions the entire ride. Jon will first teach participants how to ride the Segway, which he says is very easy for almost everyone, and then will guide you through the beautiful areas. "I am extremely grateful to be able to provide experiences to families while passing on a message I learned which is to take advantage of the time that you have with your loved ones and show appreciation for them while you can."
At just 22 years old, Jon started his business in memory of his Father and this is the third year in a row that he is giving away free rides on Fathers Day. As for the details, if someone comes with their father, everyone in the group gets a free 30 minute Segway Experience. ($24 value per person) If riders want longer, 90 minute option, the Dads get to ride at no cost. ($59 value per person) They are accepting reservations only and will be available from 9 a.m. - 5 p.m.
Segway Fort Lauderdale has been in business for almost four years now and is the #4 rated tour in Fort Lauderdale on leading travelers website tripadvisor.com and the #1 rated Segway tour in Broward County. They also just won the 2016 Tripadvisor Certificate of Excellence award and they plan on continuing to provide amazing, memorable experience for locals and people who come here from all over the world.
For further details, make reservations with Segway Fort Lauderdale at (954)304-5746 or email them at segwayfortlauderdale(at)gmail(dot)com, and their website is http://www.SegwayFortLauderdale.com.