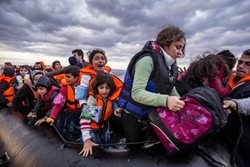 Integral Voices will introduce our readers to the sophisticated and nuanced observations of leaders with the range of experience and wisdom to inspire us to think differently and to act differently, to imagine a globalization of hope.
Washington, DC (PRWEB) June 20, 2016
"Center of Concern is pleased to launch a blog on global social justice, Integral Voices. This blog reflects our commitment to enrich the conversation that Pope Francis has kindled in his landmark encyclical, Laudato Si, regarding integral ecology, the holistic web of relationships between society and the natural world. The blog is a channel in the Center's growing portfolio of research, education, and advocacy for engaging with diverse global constituencies to kindle conversation and inspire action by putting principles and practices of Catholic social tradition in dialogue with signs of the times," noted Center President Dr. Lester A. Myers. "It will complement the crown jewel of this portfolio, the Center's award-winning on-line publication, Education for Justice."
Integral Voices will offer concise, high-quality content from prominent pastoral, thought, and executive leaders from diverse religious, cultural, economic, and political backgrounds. These topics could include energy production and consumption, climate change, basic universal rights to nutritious food and safe water, refugee crises, consumerism, education of girls and empowerment of women, respect for the rule of law, governance of public and private institutions, income inequality, integrity of global financial markets, cosmology, and the evolving meaning of duties of care and justice. They also will deal with the practical and procedural aspects and challenges of implementing Pope Francis's recommendations.
Dr. Myers commented, "Pope Francis encourages a 'culture of encounter'. He challenges us to be islands of mercy in a world of indifference. Integral Voices will introduce our readers to the sophisticated and nuanced observations of leaders with the range of experience and wisdom to inspire us to think differently and to act differently, to imagine a globalization of hope. We are honored that this cadre of leaders, beginning with Ilia Delio, O.S.F.; John T. Friedman; John P. Langan, S.J.; and Mary Alice Synkewecz, R.S.M.; will help model for us the practice of the Center's renowned methodology of the Pastoral Circle: the reiterative process of insertion into experience, analysis, reflection, and action. They will invite us to participate in the long-term open-source dialogue that has made Catholic social tradition so rich as a resource to advance positive global social transformation. Along the way, the conversation in Integral Voices will provide perspective on accomplishments and challenges facing public and private institutions, including the Church itself, in building a world that nourishes an integral ecology of justice and care for our common home and one another."
The Center's role since its founding in 1971 by Bishop (later Cardinal) Joseph Bernardin and the Very Rev. Pedro Arrupe, S.J., in the office of United Nations Secretary General U Thant as a joint project of the U.S. bishops and the Society of Jesus (Jesuits) has included service as a convener of global conversations about issues of global social justice via its research, education, and advocacy. This service has included engagement in venues such as the World Bank, International Monetary Fund, United Nations, Capitol Hill, the bishops' conference, universities, and other think tanks. Over the past three years, this scope has expanded to include advisory services and engagement with corporations, professional services firms, social service organizations, and philanthropies. Doctor Myers added, "I'm delighted to see this distinguished legacy of service continue as the Center adds value through the millennium-ready forum of this blog and a growing array of public and private institutions. Such outreach—for sharing, listening, and learning—is in our DNA."
He continued, "As the Center embarks on its 46th year, its constellation of relationships is growing, global, inclusive, and intergenerational. We are continually augmenting our efforts in research, education, and advocacy in public and private centers of influence around the world to lend a distinctive voice for global social justice and peace from Catholic social tradition. We are deeply appreciative of the ongoing support of the Raskob Foundation for Catholic Activities, which graciously provided the seed funding for this latest effort by the Center to advance the common good."
ABOUT CENTER OF CONCERN
Since its founding in 1971 at the office of United Nations Secretary General U Thant by National Conference of Catholic Bishops General Secretary Joseph Bernardin and Jesuit Superior General Pedro Arrupe, S.J., and with significant talent and treasure from women religious, Center of Concern (Center) has operated in Washington, D.C., with a mission to research, educate, and advocate from Catholic social tradition to create a world where economic, political, and cultural systems promote sustainable flourishing of the global community. The Center envisions a global community that upholds basic human rights and human dignity, fosters just relationships, promotes sustainable livelihoods, and renews the earth. The Center is the United States representative to Coopération Internationale pour le Développement et la Solidarité (CIDSE) and holds consultative status before the United Nations Economic and Social Council. http://www.coc.org
###