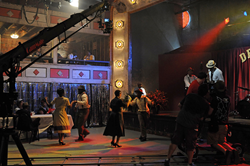 Little Rock, Ark. (PRWEB) June 17, 2016
On Saturday, June 18, 2015 Arkansas' FlagandBanner.com will join forces with the Mosiac Templars Cultural Center for their celebration of Juneteenth, a holiday that commemorates the announcement of the abolition of slavery, and is recognized as a state holiday or special day of observance in most states.
Juneteenth is a time for reflection and forward thinking for people all across America. A variety of entertainment is planned for this block party style celebration that has something for everyone. Attendees will find live music, children's activities, food trucks, non-profits, and vendor booths ranging from clothing to food. More than 1,200 people were in attendance last year with more than 50 participating vendors, performers and sponsors.
Arkansas' FlagandBanner.com will host tours of historic Taborian Hall and its Dreamland Ballroom. The Taborian Hall is now a century young, construction began in 1916 and since then Taborian Hall has been an integral part of the Little Rock African American Culture. The Dreamland Ballroom on the third floor became a popular stop on the famous Chitlin' Circuit where musical greats such as Ray Charles, B.B. King, Ella Fitzgerald, Louis Armstrong and Duke Ellington performed among others. It also has a strong military history as the building served as the USO for African American soldiers during World War II. Currently the Dreamland Ballroom is undergoing further restoration efforts. It is one of the last remaining original ballrooms in America and the last original building on 9th Street that made up Little Rock's "Little Harlem".
Guided tours will be held at noon and 2 p.m. and are free to the public. Please note that the ballroom is on the third floor. Those wishing to tour it should be aware that there is no elevator. Currently the Friends of Dreamland Ballroom are raising funds to have an elevator installed for the disabled. If you would like to make a tax deductible contribution to the Friends of Dreamland Elevator Fund call 501.255.5700 or visit them online at http://www.dreamlandballroom.org.