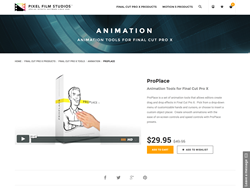 ProPlace gives FCPX users a set of animation tools that allow editors to drag and drop effects with absolute ease
Aliso Viejo, California (PRWEB) June 17, 2016
"ProPlace gives FCPX users a set of animation tools that allow editors to drag and drop effects with absolute ease," said Christina Austin - CEO of Pixel Film Studios.
ProPlace is a set of drag and drop animations created exclusively for use in Final Cut Pro X. With ProPlace, video editors can create the effect of a hand inserting and/or removing pictures, videos, and logos without having to set a single keyframe. Choose from a variety of hand presets or choose to insert a custom hand with any preset.
Select from a variety of unique hand presets by selecting from ProPlace's intuitive drop-down menu. Pick and choose from common computer hands such as arrow cursors or computer hands to more cartoony four-fingered presets. For a more personal touch, select the "custom" hand option and insert a hand using the drop zone included.
Animating with ProPlace is as simple as dragging and dropping in Final Cut Pro X. First, place a preset above media in the Final Cut Pro X timeline. Next, select the green on-screen control to determine where the hand will start to animate from. Next, drag the yellow on-screen control to determine where the media will be placed. Lastly, orient the red on-screen control to determine where the hand will animate out to.
ProPlace's hand presets are completely customizable in FCPX. Easily scale and rotate hands with sliders and rotation dials respectively. With drop shadow controls, editors can create the illusion of depth between the hand and the object(s)/scene below. Utilize the anchor point controls to shift the position of the hand relative to object(s)/scene.
Established in 2006, Aliso Viejo, California-based Pixel Film Studios is an innovative developer of visual effects tools for the post-production and broadcast community. Their products are integrated with popular non-linear editing and compositing products from Apple FCPX. Apple, the Apple logo, Mac OS X, and Macintosh are registered trademarks of Apple Inc. in the U.S. and/or other countries. All other trademarks and trade names are the property of their respective owners.