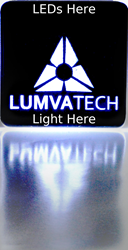 ISO 9001:2015 Certification Update Successfully Completed
Williamston, SC (PRWEB) June 21, 2016
Lumvatech LLC is proud to announce the successful completion of their ISO9001:2008 recertification. The company elected to qualify to the latest ISO 9001:2015 standard. The audit was completed on May 26, 2016. This certification is valid through June 5, 2019. The specific verbiage of the certificate states "This is to certify that the Quality Management System of: Lumvatech LLC 112 Twenty Nine Ct, Williamston SC 29697 applicable to: Design and fabrication of light panels for the back lighting industry has been assessed and approved by National Quality Assurance, U.S.A., against the provisions of: ISO 9001:2015." The certificate is attached to this news release or can be accessed by clicking here.
While the multi-day audit involves all departments of the organization, the documentation was completed by the quality and operations teams. Their experience and preparation resulted in completing the audit on the first pass and without a single issue. The audit was performed with external consultant NQA-USA. Lumvatech met with NQA-USA representatives on site at their Willimaston, SC design and production facility. Alan MacDonald, Director of Operations, filled the management representative role with support from Kyle Spahr, Quality Manager. "All phases of the recertification went well" stated Mr. MacDonald. "The audit was comprehensive but our preparation and focus allowed us to pass the audit without a single issue." He further stated, "Kyle deserves an extra pat on the back for the work he did to make the audit a success."
The ISO 9000 family of quality management systems standards is designed to help organizations ensure that they meet the needs of customers and other stakeholders while meeting statutory and regulatory requirements related to a product. ISO 9000 deals with the fundamentals of quality management systems, including the eight management principles upon which the family of standards is based. ISO 9001 deals with the requirements that organizations wishing to meet the standard must fulfill.
Third-party certification bodies provide independent confirmation that organizations meet the requirements of ISO 9001. Over one million organizations worldwide are independently certified, making ISO 9001 one of the most widely used management tools in the world today.
About Lumvatech
Lumvatech is a leading U. S. based manufacturer of ultra thin planar light panels for LED backlighting. Proprietary technology allows custom thin solutions for human machine interfaces with dome, membrane, and electronic touch switches, logo nameplates, and POP display lighting. Lumvatech products are available exclusively to the HMI and advertising production channels.
To gain additional information please see lumvatech.com or click here for Lumvatech contact info.
To see brief videos of the Lumvatech product portfolio click here to visit the Lumvatech YouTube channel or see our COMPANY PRESENTATIONS on SlideShare.
Click here to read about NQA-USA