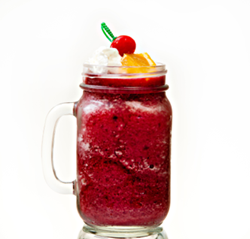 Shenandoah National Park, VA (PRWEB) June 21, 2016
July is the month to catch blackberries thickets in their peak in Shenandoah National Park. Skyland, located at miles 41.7 and 42.5 on Skyline Drive, has planned a day full of blackberry magic on Saturday, July 23rd for park visitors to enjoy this season's star.
Executive Chef Jeffrey Wasnesky has crafted a delectable blackberry themed menu with savory items including Blackberry BBQ Pulled Pork, Grilled Chicken Breast Sandwich with Blackberry Jalapeño Sauce, and Grilled Brat Sandwich with Blackberry Whole Grain Mustard and Caramelized Onions. Those with a sweet tooth can save their appetite for the dessert menu, as the event's roster includes Blackberry Cobbler a la Mode, Blackberry Ice Cream, Blackberry Short Cake, Blackberry Lemonade, and Blackberry Wine and Beer. For more information, visit goshenandoah.com/activities-events/blackberry-delight. All these delicious dishes and beverages will be available on the historic lower lawn area.
Coupled with a day of family fun and entertainment, the Blackberry Delight event is something that locals and park visitors alike truly look forward to every season. The day will be filled with kids' crafts and pony rides, wine and craft beer tastings, plus remarkable regional talent, including:
Glen Shelton
In 2010 Glen opened for Tanya Tucker, Joe Nichols, Darryl Worley, Little Texas, and Rhonda Vincent. His self-written "Help Me to Stand" hit #2 on the nationwide Christian Country Top 100. Glen has also been nominated for the ICM (Inspirational Country Music) Songwriter of the Year.
The Shenandoah Valley Cloggers
The Shenandoah Valley Cloggers is a non-profit organization dedicated to the preservation of Appalachian clogging, a distinctive form of American folk dance, which encompasses many different traditions of step dances with Scottish, English, Dutch and German roots. To entertain a variety of ages, the troupe's music includes everything from bluegrass, to country, to pop, to old time rock 'n' roll.
Davis Bradley Bluegrass
Dynamic Duo Kathy Davis and Bradley A. Bishop put together a show that will not disappoint, with their unique mix of bluegrass and swing music. Combined with smooth harmonies and string melodies, their sound is the perfect soundtrack to kick off the summer.
Debbie Zinn and Natural Grass
The Natural Grass Band was formed in the summer of 2006. After "jamming" with musicians from both sides of the Blue Ridge Mountains, Debbie Zinn brought some of her music buddies together to perform. Natural Grass' repertoire consists mainly of traditional bluegrass favorites from many years ago.
Kinda Celtic
Fredericksburg natives' Kinda Celtic puts a modern twist on classic Scottish melodies and Irish tunes, producing an ode to the cultures that influenced their music. The band is made up of Judith, James, and Jim, who use instruments including the hammered dulcimer, fiddle, and guitar, to create a truly unique sound which they have honed to become their own.
Additional lodging promotions, events and activities for planning your Shenandoah getaway are available at http://www.goshenandoah.com or call 877-247-9261 to speak with the reservation office.
About Shenandoah National Park
Established by Congress in 1935, Shenandoah National Park in the Blue Ridge Mountains of Virginia contains nearly 197,000 acres of land with over 500 miles of trails, including 101 miles of the Appalachian Trail. Shenandoah draws up to 1.2 million visitors a year with its rich history, unique geography and wildlife, as well as the panoramic vistas from the Skyline Drive. This National Scenic Byway, built during the Depression era, winds along the crest of the mountains through the length of the park, providing vistas of the sweeping landscape to the east and west. Lodging options in the park include Skyland (mile 41.7), Big Meadows Lodge (mile 51), and Lewis Mountain Cabins (mile 57.5), which are operated by Delaware North, an authorized concessioner and hospitality provider for the National Park Service.
About Delaware North's parks and resorts business
Delaware North is a global leader in the hospitality industry, operating lodging, recreational activities, food and beverage services, retail and educational programming at destinations throughout North America, Australia and Asia. Delaware North operates in some of the country's iconic national and state parks, including Yellowstone National Park and Niagara Falls State Park, as well as at cultural attractions such as Kennedy Space Center Visitors Complex. Its portfolio also includes five luxury resorts in Australia. To learn more about Delaware North's hospitality management expertise, visit http://www.delawarenorth.com/industries/parks
About Delaware North
Delaware North is one of the largest and most admired privately-held hospitality companies in the world. Founded and owned by the Jacobs family for nearly 100 years, it is a global leader in hospitality and food service with subsidiary and affiliate operations in the sports, travel hospitality, restaurants and catering, parks, resorts, gaming and specialty retail industries. Its portfolio includes high-profile venues ranging from sports stadiums, entertainment complexes, national parks, restaurants, airports, and some of the top regional casinos in the country. The company also owns a selection of award-winning destination resorts, as well as a series of premium restaurants and catering services that are leaders in the industry. Delaware North has annual revenue exceeding $3 billion with 60,000 employee associates serving half a billion guests in the United States, Canada, the United Kingdom, Australia, New Zealand, and Asia. "Delaware North" is a reference to Delaware North Companies Inc. and its affiliates and subsidiaries, including location-specific operating entities.