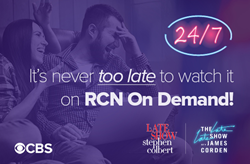 Customers now have access to more seasons, more classics, and more HD choices than ever before – which adds to an already rich library of VOD content
(PRWEB) June 21, 2016
RCN, an industry-leading provider of high-speed internet, digital TV and phone services, announced today it has more than doubled its On Demand offerings, adding thousands of new choices thanks to its newly designed On Demand platform. This includes highly anticipated content from CBS as well as new content from Sprout, Discovery and others, all at no additional cost to customers.
RCN's content expansion is made possible through a new centrally managed content distribution system, architected jointly by Concurrent (Nasdaq: CCUR), SeaChange (Nasdaq: SEAC) and RCN. With this new system and RCN's extensive fiber-rich network, RCN is able to offer significantly more content, smoother access and faster delivery of its On Demand assets to its serviceable territories and customers.
"With our new On Demand platform and expanded content selections, customers now have access to more seasons, more classics, and more HD choices than ever before – which adds to an already rich library of VOD content," said Chris Fenger, Chief Operating Officer for RCN. "Viewership of On Demand content is increasing quickly as consumers become more and more comfortable with easily accessing that content. In addition to our own statistics, recent studies of On Demand usage from Leichtman Research confirm that over 50% of cable subscribers used On Demand in the past month - compared to 34% in 2010 and 8% in 2005. This increase is in addition to the use of streaming services such as Netflix and Hulu, both of which have expanded the use and the growing popularity of On Demand TV overall. Knowing this, we remain committed to providing our customers with the best and most diverse viewing options, and look forward to expanding our service offerings even further over the next year."
"RCN is building a next generation content delivery network that provides customers with anytime access to one of the richest content libraries in the industry," said Derek Elder, President and CEO of Concurrent.
"RCN's a nimble and tough competitor in its television markets. Instead of standing on accomplishment they continue to evolve their technology foundation to push the pace in consumer video services," said Ed Terino, SeaChange CEO.
With this On Demand upgrade and the recent launch of Hulu as a channel, RCN continues to launch services that serve a growing consumer appetite for entertainment options. Customers in all of RCN's markets, including Boston, Chicago, Lehigh Valley (PA), New York City, Philadelphia (Delaware County) and Washington, D.C., have access to new TV series, kids content, documentaries, and other special programming immediately.
###
About RCN Corporation
RCN Telecom Services, LLC (http://www.rcn.com and http://www.rcn.com/business) provides industry-leading high-speed Internet, all-digital TV and phone services for residential, small/medium and Enterprise business customers. PC Magazine's Readers' Choice Award named RCN one of the winners for best ISPs in 2013, 2015 and 2016 – RCN was rated highest in overall satisfaction. RCN is YouTube HD Verified, earning the company the highest-ranking that Google offers. RCN is also a Netflix Open Connect partner, placing in the Top rankings on the Netflix USA ISP Speed Index in the markets RCN serves. RCN's affordably priced advanced digital services are delivered through its proprietary, state-of-the-art fiber-rich network and supported by 100% U.S.-based customer service. RCN's primary service areas include Boston, Chicago, Lehigh Valley (PA), New York City, Philadelphia (Delaware County) and Washington, DC.
RCN Media Contact:
Jackie Fraser, Matter Communications
Tel: 978.358.5840
Email: rcn(at)matternow.com