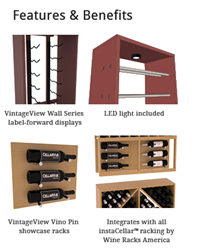 Amazing Innovation in Wine Display
Salt Lake City, UT (PRWEB) June 22, 2016
Wine Racks America is proud to announce the arrival of CellarVue™. CellarVue is a combination of traditional wood and modern metal racking. The result is something that customers have been requesting for years - all the warmth of classic wine cellar racking infused with a sophisticated modern vibe.
Most CellarVue racks come complete with a professional LED light already installed for instant illumination. Additionally, buyers can choose between Pine or Redwood construction and one of 14 stain and clear coat finish options.
CellarVue is a creative collaboration between Wine Racks America® and VintageView® storage systems. It takes the best features from WRA's wood racks and combines them with VintageView's label-forward design to create something never-before-seen.
Depending on the desired effect CellarVue can be used to create anything from warm and luxurious to minimalist and ultra-modern. In addition to home applications, CellarVue is perfect for restaurants and wine retailers who need to create high-impact displays that draw in buyers.
Each rack is designed with ease of assembly in mind and delivers free of charge to the lower 48 states. Questions? Contact a CellarVue design expert today at 1-888-373-6057.