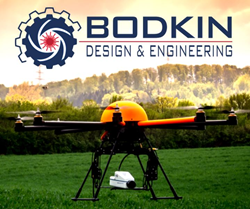 This technology gives farmers a new tool in the battle against long term drought.
Newton, MA (PRWEB) June 21, 2016
Bodkin Design & Engineering, LLC (BD&E) has entered into an exclusive marketing agreement to offer Cubert's UAV-borne hyperspectral imaging systems in North America. Cubert GmbH is a world leader in Precision Agriculture, offering products to agricultural researchers, agribusiness and agronomists throughout the world. The instruments provide farmers with high resolution data on water consumption, plant health, crop stress and fertilizer and chemical distribution. Under this agreement, Cubert will also be offering BD&E infrared hyperspectral products to European markets
The Cubert systems augment BD&E's full line of video rate, snapshot hyperspectral imagers used for process control, research, reconnaissance, defense and security. BD&E's patented technology allows instantaneous collection of data-cubes, making possible the collection of high fidelity spectral images from small airframes; eliminating the misregistration artifacts plaguing conventional scanned hyperspectral imagers.
Hyperspectral imaging combines imaging with spectral analysis. A conventional color image has three colors per pixel, but a hyperspectral image can have hundreds. Because every material has a characteristic color signature, this information can be used to identify an object by analyzing its spectra. In hyperspectral imaging, this spectral data is combined with spatial information to create three-dimensional hyperspectral data-cubes. Two dimensions describe the position of a point in space and the third dimension the spectral signature at that point. Analysis software identifies chemical composition, moisture content, crop stress, insect infestation, camouflage, etc. Typical hyperspectral imagers scan a scene over time to build a data-cube. This build time makes these technologies unsuitable for high speed applications. Using no moving parts, our proprietary HyperPixel Array™ technology captures data-cubes in one-instantaneous video frame, eliminating motion artifacts and maximizing the signal-to-noise ratio.
About Bodkin Design & Engineering "The Imaging System Experts"™
BD&E is a leader in technical imaging systems. Developing, manufacturing and marketing specialized equipment such as hyperspectral cameras, infrared cameras, polarimetric cameras, Schlieren imagers and gas imagers. In addition, BD&E develops state-of-the-art sensors for their client companies; providing concept development, design/build, and OEM supply to the biological, industrial, military, and research communities. To learn more, visit the website at http://www.bodkindesign.com.