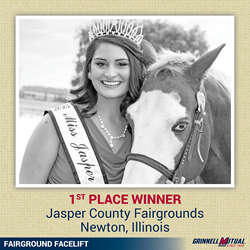 Grinnell, IA (PRWEB) June 20, 2016
Grinnell Mutual Reinsurance Company announces the three county fairgrounds that will receive a total of $3,500 in grants through the Fairground Facelift. Based on votes from Facebook users, Grinnell Mutual will distribute grant funding for the following fairground improvement projects: Jasper County Fairgrounds in Newton, Ill., first place; Bond County Fairgrounds in Greenville, Ill., second place; and Cedar County Fairgrounds in Hartington, Neb., third place.
"Thank you to Grinnell Mutual for this opportunity and the generous donation in support of our sidewalk project," Cedar County Fairgrounds board member Alisa Bartling said. "We are so pleased to have been among the 12 chosen as finalists for this contest and to finish with a third-place win! We look forward to moving this project ahead and continuing the improvements that will make the fair fun and enjoyable for all."
Grinnell Mutual received over 180 project submissions from 12 Midwest states. Facebook users cast more than 14,000 votes for their favorite projects among the 12 finalists. The three grant recipients were chosen based on the number of votes received.
"Whether you submitted a local fairground project for consideration or voted for a project finalist, your participation celebrates the role of the local fairground in bringing communities together," said Grinnell Mutual Director of Advertising and Community Relations Barb Baker.
Jasper County Fairgrounds
Jasper County Fairgrounds will receive $2,000 to purchase a portable 150x250-foot livestock show arena. "My project, 'Dream Like A Queen Arena,' was developed to raise sufficient funds to purchase a show arena for the fairgrounds. We've never had an arena for show horses or livestock, so this is really exciting!" said RaeLee Dohm, who is the 2015 Miss Jasper County Fair Queen. Dohm submitted the Fairground Facelift project as her "queen platform".
"Between all of the fundraisers I have hosted throughout this year, I raised $6,000 before entering Grinnell Mutual's Fairground Facelift contest. Winning this prize will allow us to be able to purchase our arena and hopefully have it up and running for the 2017 fair. It's such a blessing, and I want to thank Grinnell Mutual so very much for this grant!"
Bond County Fairgrounds
Bond County Fairgrounds will receive $1,000 to renovate restroom relics into potty palaces.
"Receiving this $1,000 grant will directly benefit the public and show that we are making updates to enhance the overall fair experience for attendees," said Kelcie Schreiber, a Bond County Fair board member and website coordinator who submitted the Fairground Facelift project.
"Although the grant doesn't cover an entire renovation, we plan to use the money wisely and make every penny count toward updating our restroom relics to potty palaces!"
Cedar County Fairgrounds
Cedar County Fairgrounds will receive $500 to install sidewalks to improve handicapped accessibility.
"Our fairground does not have handicapped accessible sidewalks, so the grant money will be used to install as much sidewalk as we can," said Katie Winkelbauer, a 4-H leader for the Pearl Creek 4-H club in Cedar County. Winkelbauer submitted the Fairground Facelift project.
"Having the opportunity for everyone to come and enjoy activities at our fairgrounds without worry about how to get from one place to the next means so much to our community!"
About Fairground Facelift
Grinnell Mutual hosted the Fairground Facelift on its Front Porch, a community page on Facebook and Twitter where people join in conversations about life in the country and on the farm. Learn more about Grinnell Mutual's Front Porch at http://www.grinnellmutual.com/content/front-porch-blog/. Visit grinnellmutual.com to sign up for notifications about the Fairground Facelift.
About Grinnell Mutual
Grinnell Mutual, in business since 1909, is the 117th-largest property-casualty insurance company in the United States and the largest primary reinsurer of farm mutual companies in North America. The company provides reinsurance for farm mutual insurance companies as well as property and casualty insurance. Its products are available in 14 states.
For more information
Dan McCue
Digital Marketing Specialist
Grinnell Mutual Reinsurance Co.
(800) 362-2041, ext. 8289
dmccue(at)gmrc(dot)com