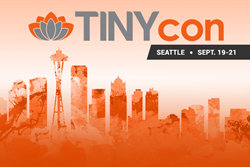 Lead. Inspire. Engage.
Seattle, WA (PRWEB) June 21, 2016
TINYpulse, the leader in employee engagement solutions, will host its first conference in September to educate business leaders about the latest trends in employee engagement and performance management. TINYcon will feature some of the biggest names in leadership, including Dan Price - the CEO who took a pay cut to increase the minimum salary at his company to $70,000.
TINYcon will be the first engagement-focused conference to gather all levels of leadership, from the C-suite to human resources to individual team leaders.
"Employee engagement is an issue for every leader," TINYpulse CEO David Niu said. "So TINYcon is for leaders who want to be change agents. Our speakers have revolutionized their own businesses, and attendees will learn to do the same."
TINYcon will tackle the challenging future of employee engagement and performance management by giving attendees access to progressive business leaders like Dan Price. Featured speakers include:

Margaret Wheeler: Chief People & Culture Officer, Stitch Fix. Formerly Senior Vice President of People Potential at Lululemon Athletica and VP of Global Learning at Starbucks.
Dan Spaulding: Vice President and Head of People and Culture, Zillow Group. Previously Vice President of U.S. Stores and Operations at Starbucks.
Frances Roy: Senior Vice President and Chief Talent Officer at Ascension, the world's largest Catholic health system with more than 150,000 associates in 1,500 locations in 23 states.
Matt Ehrlichman: CEO/co-founder, Porch.com. Serial Entrepreneur and USA Today's Entrepreneur of the Year in 2014.
David Niu: TINYpulse CEO and co-founder of BuddyTV and Net Conversions, author of "Careercation: Trading Briefcase for Suitcase to Find Entrepreneurial Happiness," and a contributor to Entrepreneur magazine.
TINYcon panel sessions will help attendees firm up their engagement skills. Sessions will cover topics like responding to employee feedback, improving employee recognition, and how to become the type of company that gets rated as a "best place to work."
Attendees will get the opportunity to earn TINYpulse Certification in a workshop run by the TINYpulse customer success team. Certification includes learning to define your engagement initiatives, understanding the technical features of TINYpulse Engage, how to respond to feedback, leveraging Cheers for Peers, and more.
"Since we founded TINYpulse, we've been helping companies create better workplaces. We've learned a lot about leadership in that time, and now, along with these incredible speakers, we get to pass that knowledge on," Niu said.
TINYcon will take place Sept. 19 – 21 at the W Hotel in downtown Seattle. Advance tickets are on sale through June 30 at 30% off. For more on TINYcon programming and to buy tickets, visit http://www.TINYcon.com.