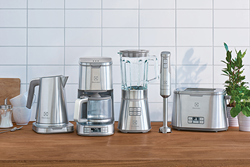 (PRWEB) June 20, 2016
When searching for the perfect gift this wedding season, guests need look no further than the Electrolux Expressionist Collection™ of small kitchen appliances that includes a water kettle, thermal carafe coffee maker, blender, immersion blender and toaster. With sleek, unique designs and intuitive features, the Expressionist Collection offers enticing products that are the perfect wedding or shower gifts for newlyweds building a home and life together.
"During wedding season, choosing a gift that is both unforgettable and inspiring can be a difficult task – but the Electrolux Expressionist Collection™ of small kitchen appliances provides the platform for limitless culinary excellence, making gift-giving easier than ever," said Per Kvarby, Global Product Manager for Electrolux Small Appliances.
Electrolux Expressionist Collection™

Expressionist Kettle features a OneCup Tubo™ function that boils one cup of water in 60 seconds and pre-set programs that make brewing tea simple. MRSP: $129.99.
Expressionist Thermal Carafe Coffee Maker has an advanced brewing system with an AromaStrength™ Selector and ProBrew™ Shower System to extract the best flavors. MRSP: $149.99.
Expressionist Blender utilizes TruFlow™ Technology that provides a better circulation of ingredients and superior blending results with five easy-to-use settings. MRSP: $149.99.
Expressionist Immersion Blender has an innovative foot design that promotes better circulation of ingredients, along with accessories for better blending power. MRSP: $99.99.
Expressionist Toaster takes advantage of the DigitalVision™ Precision Timer and Temperature Sensor Technology for superior toasting results. MRSP: $79.99.
"Electrolux is known for our stylish and innovative major appliances, and now with the Expressionist Collection, the beautiful designs are also available for your countertop," said Kvarby.
All products are available nationally at online retailers and online at Electroluxappliances.com.
About Electrolux Small Appliances North America
Electrolux Small Appliances North America (ESA-NA) leverages consumer driven insight to manufacture and market innovative small appliances for the home. The company markets floor care products and small kitchen appliances to consumers under its well-known Eureka, Electrolux and Frigidaire Professional brands and sells high-quality commercial products under its Sanitaire brand name. It also offers central vacuums made by its Electrolux Central Vacuum Systems division (formerly known as Beam Industries). ESA-NA is based in Charlotte, N.C., and is a part of The Electrolux Group. Visit http://www.electroluxappliances.com, http://www.eureka.com, http://www.frigidaire.com, or http://www.beamvac.com for more information.