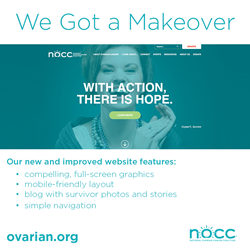 Dallas, TX (PRWEB) June 20, 2016
The National Ovarian Cancer Coalition launched its new website, http://ovarian.org, an online tool devoted to supporting its mission with an emphasis on earlier ovarian cancer awareness, community events, research, and quality of life for survivors and their families.
The new website features a modern design, improved back-end functionality, and up-to-date ovarian cancer information. Other features include:

A mobile-friendly layout that can be viewed seamlessly on a mobile device or tablet
Full-screen photos and new infographics
A visually appealing calendar of events, which can be filtered by event type
A blog featuring ovarian cancer survivors stories
Newly designed NOCC chapter pages, with easy-to-find information
"We are extremely excited about the recent launch of our new, dynamic website," said NOCC Chief Executive Officer, David Barley. "This new online tool will provide our constituents with up-to-date ovarian cancer information, tools to create earlier awareness about the signs and symptoms of ovarian cancer, and provide hope to those affected by the disease."
The site was created in part with PICnet, a web development agency specializing in providing open source software and services to non-profits and socially responsible businesses.
# # #
About the National Ovarian Cancer
Since its inception in 1991, the National Ovarian Cancer Coalition (NOCC) has been committed to raising awareness, promoting education, and funding research in support of women, families, and communities touched by ovarian cancer. NOCC is well-established as an important national advocate for patients and families struggling with ovarian cancer, and remains steadfast in its mission to save lives by fighting tirelessly to prevent and cure ovarian cancer, and to improve the quality of life for survivors. For more information, please visit http://www.ovarian.org.